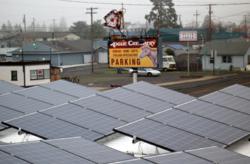 Bring on the sun!
Murrieta, CA (Vocus/PRWEB) February 01, 2011
As indicated by their "Nellie Green Pedal Power" bike commuting program, rolled out in 2009, sustainability has, for years, been a core component of Rogue Creamery's corporate culture. President and Co-Owner, David Gremmels, hopes that the additional sustainability effort, their new 58 kilowatt, 252-panel solar photovoltaic (PV) system, will set an example within their community. The solar PV system, on the roof of the creamery in Central Point, is Phase I, with more Rogue Creamery green projects being planned.
Gremmels is also spreading the word to other business leaders and building owners in the area, explaining that 25-30% of his power is now being produced organically by solar power, thus reducing Rogue Creamery's carbon footprint. "Not only is it reducing our expenses long term, but knowing we are helping the environment by watching [our meter spin] backwards is too impressive for words... bring on the sun!" said Gremmels.
This success of the solar PV system design and installation was the result of the combined dedication from Rogue Creamery, Hoag Roofing and Ambassador Energy. All three companies' employees simply put their heads down and ran toward the almost-impossible deadlines and end-of-the-year target date. Time available from contract signing to completed installation was only 4 weeks, resulting in many over-time hours and long, wet, cold days on the roof.
"The commitment to this project speaks to an amazing work ethic I recall from growing up in Oregon," said Steve Fulgham, CEO of Ambassador Energy, Inc., a Southern California solar training and distribution company. "Being there to help and getting to know Rogue Creamery inspired me to get my team in California on the same page to meet the deadline. It was a pleasure working with folks from my home state. Rogue Creamery, whose quality is obvious when you taste their amazing cheese products, and Hoag Roofing, whose skills are unmatched, made it a team who was not going to miss. I was proud to have Ambassador Energy be a part of it. We look forward to helping them add solar thermal and more PV for even more positive impact on their finances and the environment."
For Sage Robertson, Hoag Roofing's General Manager, who had just completed intense solar training at Ambassador Energy's training facility in Southern California, failure was not an option. Having recently completed work on Rogue Creamery's roof, confident with Hoag's 30-plus years in roofing, and now armed with robust solar skills, Robertson knew that, while they would have to work in cold, wet weather conditions and against a difficult deadline, they were the right team to get the job done. "Hoag has always been interested in renewable energy & recognized the recurring need for professional roof-integrated solar systems. You can't just have anyone punching holes in your roof. I have had to remove several solar installations [done by other companies], and start all over again from the beginning, due to poorly-installed systems that weren't integrated [properly] with the roofs."
At the end of the day, this installation represents success and foresight on so many levels. A home-town company (Rogue Creamery) spends time and money hiring another home-town company (Hoag Roofing), who engages the help of a home-grown solar company CEO (Steve Fulgham of Ambassador Energy) to significantly reduce a carbon footprint, and most importantly for Rogue Creamery's team, set an example of good environmental stewardship. Touchdown! Solar team and planet Earth win.
See the Rogue Creamery story on Medord, Oregon's KTVL Channel 10 News!
About Ambassador Energy
Ambassador Energy has over 50 Authorized Agencies in 13 US states. AE provides a turnkey, consolidated platform of renewable energy training, support, product-agnostic distribution and evolving mindshare to a nationwide network of Ambassador Energy Authorized Agents, who are contractors and entrepreneurs augmenting their portfolios by offering renewable energy solutions to their clients.
Ambassador Energy offers their Agency program to qualified candidates. New Agency Training is offered approximately once every four to six weeks.
About Rogue Creamery
Rogue Creamery - people dedicated to sustainability, service and the art and tradition of making the world's finest handmade cheese.
About Hoag Roofing
Since 1955, serving Oregon, California and Washington.
# # #