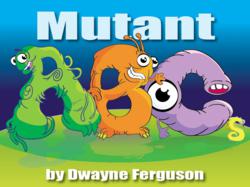 I want to engage kids and entertain them and while I'm doing so, trick them into learning.
Washington, NJ (Vocus/PRWEB) February 02, 2011
Dwayne Ferguson, President & CEO of Diehard Studio Entertainment, is pleased to announce the upcoming release of Mutant ABCs. The ABC-learning ebook is the story of a team of mutant ABCs whose spaceship crash-lands on Earth and sets about teaching children the words of the alphabet and how they are used.
"Learning the alphabet is the important first step in learning how to read," says Ferguson. "I want to engage kids and entertain them and while I'm doing so, trick them into learning. "That's why I've created memorable characters in the shape of letters. Bright, colorful, whimsical, fun letters with lots of personality to help kids along the path to reading."
The Mutant ABCs ebook is more than just fun mutant letter designs and colors. "Electronic books are the perfect platform for an ABC book," says Ferguson. "Certainly the colors are bolder than printed books, but that's only one of the advantages. I've carefully chosen entertaining and engaging words based on images kids can relate to and enjoy. Then I've literally brought them to life with sound effects and recorded a voiceover that provides a guide for pronouncing each letter correctly."
Ferguson, who has written over 40 books, mostly for children, wrote, illustrated and recorded the voiceovers for the book app, which includes characters such as "D" for "Dragon," "H" for Howl and "L" for Lizard. Having created artwork for popular franchises such as Mighty Morphin' Power Rangers, Ghostbusters, Transformers and California Raisins, Ferguson knows the importance of a visual that can attract and hold a kid's attention.
Best known as being the Art Director of the fan favorite hit animated TV series Mutant League, Ferguson knows his mutants. He also knows kids, having written and illustrated numerous books and his own comic book series, Hamster Vice. In addition he's created artwork for entertainment companies such as Walt Disney, Sony Music, Warner Bros. and Macmillan Publishing.
For more information and preview artwork, visit http://www.diehardstudio.com.
Also available on the iTunes App Store is Dash & Everest: a Very Kitten Christmas. Available in the Apple iBooks Store and on the Amazon Kindle, is the scary fun Screamer's Kinda Scary Tales for children ages 8 to 12.
# # #