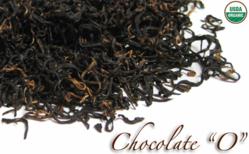 Boulder, CO (Vocus/PRWEB) February 01, 2011
Boulder's big-hearted, loose leaf tea company is celebrating Valentine's Day with more than their standard labor of love. The Tea Spot, admired for their 10% Pledge for Cancer Wellness, is extending their organic tea line with a new handcrafted premium tea, named Chocolate "O".
This certified organic chocolate tea exhibits chocolate aromas on a malty black tea base, with hints of caramel and honey. Chocolate "O" is handcrafted with an organic single estate Hong Maojian loose black tea and chocolate essence. Handpicked and grown organically at high altitude, the black tea leaves show golden tips. The tea is micro-blended to deliver a flavor reminiscent of hot cocoa.
"This tea sets a new high-water mark for our organic blends because of the superior quality of its base--a Hong Maojian black tea--and the way that this base compliments the chocolate flavor. Chocolate "O" brews a dark amber liquor, melding the complexity of a fine leaf with the subtle sweetness of dark chocolate. The spectrum of flavors produced by this cup is a testament to the excellence of its base. More than ever, we're convinced that high-quality, hand-picked organic tea leaves are the building blocks of a great blend," Bo Olson, The Tea Spot's Tea Specialist, eloquently said of Chocolate "O's" unique flavor.
With this most recent expansion of their organic line, The Tea Spot now offers fifteen certified organic teas. From Pu'erh, to yerba maté, oolong to white, green to herbal, The Tea Spot's commitment to producing handcrafted organic loose leaf teas continues to grow.
ABOUT THE TEA SPOT, INC
The Tea Spot is a certified woman-owned and operated business producing proprietary products for loose-leaf tea. Patented tea serving and steeping products are marketed under the Steepware® trademark. They also offer a line of exclusive, organic, and Fair-Trade Certified™ leaf teas. Based in Boulder, Colorado, the company was founded in 2004 by Maria Uspenski, a cancer survivor drawn to the health benefits of leaf tea during her recovery. She set forth to modernize the loose-leaf tea experience, making it an everyday luxury. Her message is simple and powerful: tea in its freshest form renders incredible flavor, unmatched health benefits, and is eco-friendly. The company ensures that its products uphold clean, sustainable and fair manufacturing standards. The Tea Spot's model of social entrepreneurship incorporates a culture of giving as it grows: Ten percent of every sale made is donated in-kind to cancer and community wellness programs. More at theteaspot.com or media(at)theteaspot(dot)com.
# # #