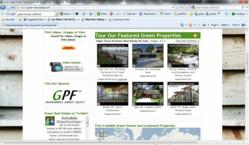 Denver, CO; Tulsa, OK; Austin, TX; Dallas, TX; Houston, TX; San Antonio, TX (Vocus/PRWEB) February 11, 2011
Need to know how to build a greywater system for your home? Looking to buy a new, green home in Austin? Planning a green retrofit project and searching for an architect or contractor? Green-Real-Estate.com can probably help, whether you live in Seattle, Los Angeles, Denver, Austin, New York City, Washington DC, or beyond. For property sellers, builders, developers, architects, material suppliers, and real estate professionals, Green-Real-Estate.com is an affordable place to upload their videos and tell their story online. "We've designed the site to provide a fast and easy way for property sellers and others in green building to easily upload high-quality videos to promote their green real estate or services to visitors on the website's local channels," explains Craig Immel, founder of Green-Real-Estate.com, a creator, curator and distributor of online video content focused on the greenest parts of the real estate industry. Green-Real-Estate.com earns revenue through relevant advertising and by making sponsored property video postings available to owners, developers and builders of green real estate.
"With rapidly growing demand for online video content, and for local green building and real estate investment information, the website is well positioned to fill a noticeable void in traditional real estate media coverage," explains Immel, a LEED Accredited Professional. "We're really excited about the prospects that the explosion in online video offers to real estate marketers. Online video is a dream come true for marketers of green properties. No other media platform has the powerful ability to truly showcase green homes and commercial properties, or to inform and educate potential buyers about the benefits of investing in sustainably built real estate."
# # #