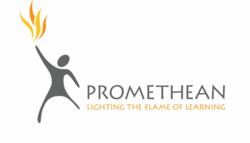 The pen and touch capability of the ActivBoard 500 offers the best of both worlds. Teachers use the pen to write and their finger to re-size or move images simultaneously," explained Trevor Honohan, Principal, Audubon Park Elementary School, Florida.
Orlando, FL (Vocus/PRWEB) February 02, 2011
Global education company, Promethean, has unveiled its next generation, ActivBoard 500 Pro-series. The launch of the new interactive whiteboard introduces, for the first time, leading-edge technology that allows the board to be operated simultaneously by both pen and 'gesture' touch.
The ActivBoard 500 will enable the use of new and emerging multi-touch functionality similar to that used in Apple and Microsoft (Windows 7) applications. This flexibility allows teachers to reach students in a variety of ways or modes, supporting a wider range of learning types. Users will have the ability to easily move and scale objects with finger-touch using natural hand movements, in conjunction with the precision of the "pen" for tasks such as writing or drawing. This offers a more intuitive and efficient way of performing tasks and allows for more collaborative classroom activities.
"Expectations and usability of technology have changed with developments in consumer electronics, and with it a new set of actions has emerged – the tap of a screen has replaced the click of a button. These digital behaviors are now second nature to most technology users and can now be used in the classroom to operate our new generation of interactive whiteboards," commented Jean-Yves Charlier, Chief Executive Officer at Promethean.
"We believe the ActivBoard 500 represents the most significant advance in interactive whiteboard technology since it was first introduced in schools. The feedback we've received from pilot schools confirms that our 'best of breed' solution with both pen and touch capabilities offers a more collaborative, immersive, and inclusive digital experience for both teachers and students."
"The pen and touch capability of the ActivBoard 500 offers the best of both worlds and provides a more intuitive and fluid way of working. Our teachers used the pen to write and their finger to resize or move images around the screen simultaneously," explained Trevor Honohan, Principal at Audubon Park Elementary, Orange County Public Schools, Orlando, FL. "This constant, natural movement minimizes the need for breaks during instruction. As you might imagine, students are quite comfortable using the touch technologies because of all the iPad-type technologies in their day-to-day lives. The ActivBoard 500 mirrors 'gestures' pupils are used to using with other technologies making them more confident when using the board."
The ActivBoard 500 Pro also includes two free multi-touch applications for mind mapping and lesson planning: NoteBoard and TouchPad. These applications allow teachers to aggregate ideas, collate learning points and use interactive 'post-it' notes to promote simple, easy-to-use mind-mapping activities. Supporting the ActivBoard 500 is ActivInspire 1.5, Promethean's award-winning software, available for download via PrometheanPlanet.com/ActivInspire.
About Promethean
Promethean - Lighting the flame of learning
Promethean is a global education company committed to supporting teaching and learning. Our focus is on student centered and collaborative learning. We do this through our integrated technology, training, content and assessment solutions that help teachers meet individual student needs. Our products are used in more than 500,000 classrooms around the world, and PrometheanPlanet.com, the world's largest interactive whiteboard community site, provides its almost one million members access to around 23,000 free teaching resources. With corporate headquarters in the U.K. and U.S., Promethean has offices in nine countries and is listed on the London Stock Exchange as Promethean World Plc (ticker symbol 'PRW'). http://www.PrometheanWorld.com
###