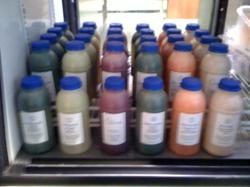 O2 Living's Juice Cleanse is ideal for people looking to make wellness a priority in 2011. -- Rosemary Devlin, founder, o2 Living.
Cross River, NY (Vocus/PRWEB) February 02, 2011
To help those looking to jumpstart 2011 in a healthy way, O2 Living, a natural health and wellness community offering a Live Food Café, therapeutic spa treatments, signature juice cleanses, all natural skin treatments and products, yoga, and meditation classes in Cross River, is pleased to offer the O2 Living Juice Cleanse.
Comprising natural, fresh-pressed fruit and vegetable juices, O2 Living's Juice Cleanse eases the digestive process by replacing meals with specially formulated juice blends which are designed to remove dangerous toxins that may be left behind by food, drinks or medication. The process frees energy within the body, which the body in turn uses for cleansing and healing.
"The origins of juice cleaning date back to 1747 when doctors were conducting studies on the disease 'scurvy'," said Rosemary Devlin, founder, O2 Living. "In its modern day adaption, juice cleansing is a great way to refresh and renew the body. O2 Living's Juice Cleanse is ideal for people looking to make wellness a priority in 2011 and we are pleased to offer it for pick-up or at-home delivery."
For those looking to integrate a juice cleanse into a comprehensive wellness plan, O2 Living also offers nutritional consultations with its organic and raw foods nutritionist and cooking demos with its live foods chefs. O2 Living also offers customized raw food plans to help people optimize the long-lasting benefits of a juice cleanse.
O2 Living's Juice Cleanse is available in 3, 5 and 7 day programs and comes with a pre-cleansing protocol for optimal success. For those who need supplemental nourishment during their juice cleanse, O2 Living also offers freshly prepared raw foods.
O2 Living is located at 6 Yellow Monkey Village in Cross River, N.Y. To learn more about O2 Living, call 914.763.6320 or visit O2 Living online at O2Living.me or @O2living on Twitter.
About O2 Living (http://www.o2living.me)
Headquartered in Cross River, New York, O2 Living is an all embracing community dedicated to lifestyle/wellness. Established as Cross River Wellness, LLC (d/b/a O2 Living,) this holistic spa and wellness center encourages people to live, learn and connect. It offers yoga, spa services, including signature Oxygen treatments, a retail boutique and Live Food Café nestled in Cross River's quaint Yellow Monkey Village. The wellness community also features an online destination, O2Living.me, where members can connect and communicate about their experiences and build a greater sense of community with those who share their passion for and commitment to health and well-being. A second location is scheduled to open in Mount Kisco, New York in early 2011.
# # #