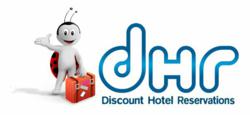 With Dhr.com and Larry, we had the opportunity to see once more how great our fans, followers and customers are. We hope to give our customers new features, surprises and unrivalled customer service, in 2011 and onwards
New York, NY (Vocus/PRWEB) February 02, 2011
Discounted Hotel Reservations (DHR) is the new brand which has been launched as opposed to gtahotels.com on December 1, 2010. DHR.com is a trademark of the MetGlobal group of companies, and the newly branded site will offer online travel bookings for discounted hotel accommodation. As the successor of gtahotels.com, DHR.com will benefit from the experience of gtahotels.com which has been a licensed and trusted provider for online hotel bookings worldwide for the past 10 years.
The rebranding of gtahotels.com to DHR.com was launched alongside a mascot-naming contest on Facebook in November 2010. Among a barrage of submissions, the mascot name "Larry D. Lucky" ladybug was chosen as the new name of the DHR.com mascot. Larry sports a wide-eyed grin, and is recognisable with his red-and-black dotted wings and orange suitcase. The winning name stood out among the list of entries because it best symbolised the eternally restless travel bug. The winner, Donna Stevens, received $1000 worth of free hotel accommodation.
Quote from DHR.com; "We are very thankful to our customers for their tremendous feedback and support during this rebranding process. They have always believed in the gtahotels.com brand and now DHR.com is going to continue of offer genuine offers and guaranteed best rates. We believe any kind of feedback is important for our brand and Larry will always be there for our customers. He is currently flying in between Dhr.com's Facebook and Twitter accounts and is dedicated to lend a hand to the fans with travel tips, new offers and friendly advices to provide complete online service plainness.
With the arrival of the New Year, our future campaigns and promotions have also recently been announced on the rebranding page. To summarize, with Dhr.com and Larry, we had the opportunity to see once more how great our fans, followers and customers are. We hope to give our customers new features, surprises and unrivalled customer service, in 2011 and onwards." says a DHR Representative.
The newly branded website provides quick responses to queries and a dedicated 24/7 customer support. Multiple online secure bookings for different budget packages and transfers can be arranged and confirmed at the same time. Additionally the website now includes Trip Advisor reviews, travel tips and city guide maps to assist online visitors.
The "Book Now, Pay-Later" logo offers customers the option to pay at the hotel as opposed to paying at the time of booking online. DHR still offers the same special rates for group packages and travel itineraries.
Visit DHR.com to learn more about the innovations after rebranding and be sure to visit the Facebook and Twitter to behold Larry D Lucky's responsive manner.
###