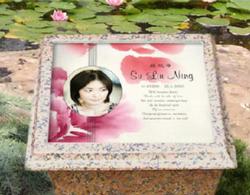 "Increasing our collaboration and cooperation with printer-laminators such as DigiGlass, helps DuPont deliver the high-quality imagery and design freedom of SentryGlas® Expressions™ in novel products such as memorials."
Wilmington, DE (Vocus/PRWEB) February 07, 2011
DuPont Glass Laminating Solutions announces an exclusive license agreement with DigiGlass Pty Ltd. for use of DuPont™ SentryGlas® Expressions™ digital interlayer technology in "Life Memories" laminated glass plaques honoring individual lives.
DigiGlass, located in Melbourne, Australia, is a specialist in the production of decorative safety glass interlayers and has held a license since 2004 to produce digitally printed interlayers for architectural safety glass using DuPont™ SentryGlas® Expressions™ technology. The latest license awards DigiGlass with a worldwide exclusive for its Life Memories products using the same technology.
DigiGlass developed its Life's Memories concept over a multi-year period, culminating in October 2010 launch of a website, http://www.lifesmemories.com.au. DigiGlass' goal is to firmly establish Life's Memories in the memorials marketplace, globally, within the next three years.
The Life's Memories concept gives clients total creative freedom in the design of commemorative plaques, offering a modern alternative to traditional products such as etched granite or bronze plaques. To date, over 1,500 memorial plaques have been sold in Australia, to both cemeteries and the public.
"To reach specialty decorative glass markets, DuPont is licensing its SentryGlas® Expressions™ technology to quality-oriented partners who can reach out to designers and consumers," said Valerie A. Aunet, venture manager – DuPont™ SentryGlas® Expressions™. "Increasing our collaboration and cooperation with printer-laminators such as DigiGlass, helps DuPont deliver the high-quality imagery and design freedom of SentryGlas® Expressions™ in novel products such as memorials."
Life's Memories' glass memorial plaques allow text and imagery to be embedded inside safety glass. Resulting glass plaques provide families with unequalled freedom to celebrate a loved one's life in words and crisp, full-color imagery. Unlike traditional inscriptions or bronze plaques, Life's Memories laminated glass plaques allow combinations of photography, artistic imagery, typestyles and colors to be used in a beautiful and lasting tribute.
The new DigiGlass license covers uses of SentryGlas® Expressions™ in monuments, headstones, tombstones, cremation plaques, burial plaques, columbarium walls, ash containers, individual vaults, family vaults, miniature headstones, crypt fronts, ground memorial plaques, mausoleum plaques, niche walls, and the like used in cemeteries to memorialize individual recently deceased persons (and immediate family members) and pets.
Established in 2003 by Anthony Anderson, DigiGlass Pty Ltd. is an industry leader in high-resolution imaging in glass. The company specializes in glass laminating and innovative digital techniques to produce DigiGlass laminates with embedded imagery. For more information, visit digiglass.com.au. or write to anthony.anderson(at)digiglass(dot)com(dot)au.
SentryGlas® Expressions™ revolutionizes the way designers and artists can use digital imaging and printing technology to create a wide range of decorative glass effects. The technology uses a DuPont proprietary process to print directly onto the plastic interlayer inside laminated safety glass. Resulting high-resolution imagery is securely embedded in the glass, which can add design flair to self-standing internal walls, partitions and doors, stairway balustrades, tabletops, elevators, windows or entire external building facades. Other benefits of laminated glass include safety, security, outdoor weatherability, indoor protection from UV rays, noise reduction and energy efficiency. For more information, visit sentryglas.com.
DuPont (http://www.dupont.com) is a science-based products and services company. Founded in 1802, DuPont puts science to work by creating sustainable solutions essential to a better, safer, healthier life for people everywhere. Operating in more than 90 countries, DuPont offers a wide range of innovative products and services for markets including agriculture and food; building and construction; communications; and transportation.
The DuPont Oval Logo, DuPont™, The miracles of science™, and SentryGlas® Expressions™ are registered trademarks or trademarks of DuPont or its affiliates.
# # #