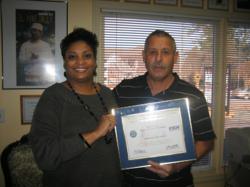 Atlanta, GA (Vocus/PRWEB) February 02, 2011
Georgia Employer Support of the Guard and Reserve (ESGR) presented Topper Worldwide, Inc. owner, Mr. Miki Bacher, with the Patriot Award for his extraordinary support of his employee's military service.
Khulafa IL'auuwaahid, a Reserve Component member, nominated his supervisor, Mr. Bacher for this outstanding award.
Retired Adm. James McGarrah, ESGR Georgia Chair, said, "The Patriot Award was created by ESGR to publicly recognize employers who display support for their Guard and Reserve employees by supportive actions and personnel policies. Mr. Bacher was nominated for being highly supportive of the armed forces by his Reserve Component employee, Mr. IL'auuwaahid."
Topper Worldwide, Inc., formerly known as Topper Limousine, with headquarters in Atlanta, Ga., has grown to become one of the world's premier chauffeured transportation providers. Founded in 1996, Topper remains a family owned and operated business. In 2007, Topper completed its corporate rebranding efforts unveiling its new initiative and visual identity as a worldwide chauffeured transportation provider.
As the 1.3 million members of the National Guard and Reserve continue to perform an increasing number of unique missions from America's borders and beyond, ESGR will continue to be the resource for the employers of citizen warriors. ESGR advocates relevant initiatives, recognizes outstanding support, increases awareness of applicable laws and resolves conflict between employers and service members.
More information about ESGR Employer Outreach Programs and volunteer opportunities are available at http://www.esgr.mil, or by calling 678-569-5738.
###