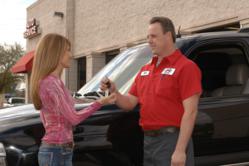 ..."when we take care of the small preventative maintenance issues, chances are, the major problems won't necessarily occur."
Phoenix, AZ (Vocus/PRWEB) February 02, 2011
The new-year brought growth and expansion to Sun Devil Auto, a leader in the automotive aftermarket industry. The Higginbotham family-owned and independently operated chain boasts twenty-one locations in Arizona, four in Nevada and three in Texas. Sun Devi Auto is often referred to as the "alternative to the dealership" and since 1978 has successfully serviced tens-of-thousands of vehicles in the retail and commercial fleet markets.
Given the current economic climate, and with more people holding on to their vehicles rather than buying new, the Sun Devil Auto team launched a new Car Care Clinic program to 1) help consumers learn some basics about their vehicle; 2) identify what could be the beginning of a minor mechanical issue, 3) get out into the community and relate one-to-one with their customers.
The program has been well-received, and to-date, has been "tested" in a variety of settings such as Homeowner's Associations, RV Resorts, women's groups and organizations. When asked about the relevance to this program, veteran store manager and creator of the program Dave McCombs stated, "I enjoy talking to people about their vehicles ~ it's that simple. As automobile owners, we know that when we take care of the small preventative maintenance issues, chances are, the major problems won't necessarily occur. In this economy, spending a little to prolong the life of one's vehicle makes good sense and even if a key mechanical issue needs attention, in the long-run it's still more cost-effective to replace a transmission than it is to buy a new vehicle."
Sun Devil Auto has been providing complete auto repair to its customers since 1978. Services include:

Engine Repair
Brake Service
Emissions
Advanced Diagnostics
Transmission and Clutch Repairs and Overhauls
Air Conditioning
Tune-Up
Radiator & Engine Power Flush
Fuel Filter Replacement
Cooling System Service
Automatic Transmission Service (NV and AZ only)
Timing Belt Replacement
Alignments
Battery Service
Glass repair & replacement
Any organization or community interested in Sun Devil Auto's free Car Care Clinic Program is encouraged to contact one of the company's twenty-one locations.
Sun Devil Auto (http://www.SunDevilAuto.com) is an Arizona-grown, family-owned and operated auto-repair company offering complete repair in the automotive aftermarket industry. Established in 1978, the company has successfully established an Arizona presence with 21 locations and recently has expanded into the NV and TX markets with 4 and 3 additional stores respectively.
###