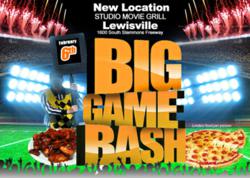 Dallas, TX (Vocus/PRWEB) February 01, 2011
The Super Bowl is right around the corner and people are gearing up for big celebrations nationwide. This year, the Dallas car wreck lawyers at 1800-Car-Wreck are joining their friends at K104 to celebrate at the hottest party in the DFW metroplex. As an official sponsor of K104's Big Game Bash, 1800-Car-Wreck is helping round out the guest list for the celebration by giving away tickets to the event to those who connect with them on Facebook and Twitter.
For Fifty Lucky Social Media Connections
Those who follow 1800-Car-Wreck on Facebook or Twitter have the opportunity to join 1,500 K104 listeners at the Lewisville Studio Movie Grill for the exclusive Big Game Bash on February 6. In addition to a wide-screen viewing of the Super Bowl game, invited guests will also be treated to pre-game festivities with live DJ's and celebrity guests, free give-aways from 1800-Car-Wreck including a pair of Beats by Dr. Dre headphones, and free food.
Twenty-five lucky social media connections will be randomly chosen to receive two free tickets to the Big Game Bash. Individuals can follow 1800-Car-Wreck on Facebook by visiting http://www.facebook.com/1800CarWreck, and on Twitter at http://twitter.com/800carwreck. Those who want the chance to attend the exclusive party just have to follow the Dallas car wreck lawyers on the social media sites and then send them a message on why they should attend the event by posting to the Facebook fan page wall or tagging @800carwreck in a tweet.
The Big Game Bash is set to take place soon, so individuals are encouraged to connect with the Dallas car wreck lawyers now for their chance to attend.
About 1800-Car-Wreck Accident Attorneys
The Dallas Car Wreck Lawyers of 1800-Car-Wreck serve the needs of Texas accident injury victims, bringing over 60 years of combined experience to the table. Their legal team has multiple resources available to help those who may be unsure of where to turn after an accident has left them unable to work, or in need of car repair compensation or reimbursement for medical bills and other expenses.
The leading Dallas area Auto Accident Attorneys welcome those who have been involved in a motorcycle wreck, highway wreck, 18 wheeler accident, pickup wreck, deadly car wreck, drunk driving accident, or any other vehicle accident type, to contact them immediately by calling 1800-Car-Wreck or visiting http://www.1800CarWreck.TV for a free evaluation of their case.
For more information about the firm, or getting free tickets to the Big Game Bash, please visit http://www.1800CarWreck.TV.
###