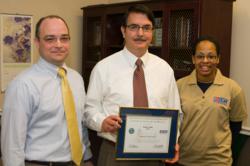 Warner Robins, GA (Vocus/PRWEB) February 02, 2011
Georgia Employer Support of the Guard and Reserve (ESGR), an agency of the Department of Defense, presented the Patriot Award to Emory Jiles, III, Director of Engineering for Support Systems Associates, Inc., in recognition of extraordinary support of his employee, Maj David Brown, who serves in the Georgia Air National Guard.
Maj Brown nominated his supervisor, Mr. Jiles, for the award. An ESGR representative presented the award to Mr. Jiles at his office Jan. 25.
Retired Adm. James McGarrah, ESGR Georgia Chair, said, "The Patriot Award was created by ESGR to publicly recognize employers who display support for their Guard and Reserve employees by supportive actions and personnel policies. Mr. Jiles was nominated for being highly supportive of the National Guard by his Reserve Component employee, Maj Brown."
Support Systems Associates, Inc., is a privately-owned, nationwide company that specializes in engineering, logistics and management services to both government and industry. Founded in 1969, SSAI has grown steadily to become a leader in its field. SSAI employees are their most valued asset and fifty percent of SSAI employees are veterans of a military service.
As the 1.3 million members of the National Guard and Reserve continue to perform an increasing number of unique missions with America's borders and beyond, ESGR will continue to be the resource for the employers of citizen warriors. ESGR advocates relevant initiatives, recognizes outstanding support, increases awareness of applicable laws and resolves conflict between employers and service members.
More information about ESGR Employer Outreach Programs and volunteer opportunities are available at http://www.esgr.mil, or by calling 678-569-5738.
###