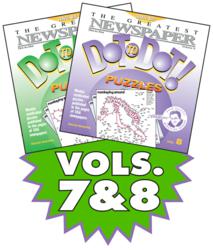 Rochester, NY (Vocus/PRWEB) February 02, 2011
Boasting over 25,000 attendees, 1,200 exhibitors and 100,000 products, the NYC Toy Fair is the largest international toy trade show in the Western Hemisphere where the newest and hottest products in the children's entertainment marketplace are exhibited. This year's four day convention, scheduled from February 13th-16th at the Javits Center in New York City, will also be the forum from which David Kalvitis will unveil the latest additions to his popular Greatest Dot-to-Dot series.
Volumes 7 and 8 will complete the series of Kalvitis's well-known Mini-Travel Newspaper Dot-to-Dot books. Featuring connect-the-dot puzzles from syndicated newspaper columns, these books pack a big punch with pocket-sized but intricate designs for readers to decipher. At half the size of the popular Super Challenge series, the 5.5" x 5.5" Newspaper books boast many of the varied challenges and puzzle styles of their larger predecessors in a more portable package. The new volumes contain a myriad of brand new challenges for puzzlers to tackle, continuing the series, which has sold over ½ million books.
In preparation for the Toy Fair, Kalvitis's puzzle books are traveling cross-country via Amtrak passenger train with industry expert and toy critic the Toy Man®, Rev. James G. W. Fisher. While en route to NYC, the Toy Man® will be conducting hands-on evaluations of products, including Kalvitis's Greatest Dot-to-Dot books. During prior evaluations, Kalvitis's puzzle books proved to be a fan favorite among Fisher's volunteer evaluators, who raved, "It's like the old classic dot-to-dot books on steroids! So much more entertaining," and "the content is so great that the classic dot-to-dot books from the past literally pale in comparison." Such praise not only solidified Kalvitis as a recipient of the Toy Man® 2011 Seal of Approval, which he will be receiving at the NYC Toy Fair, but also placed his connect-the-dot books on The Toy Man's 2010 Q4 Top Ten Award list.
As toy manufacturers, retailers, importers, licensors and reps from around the world gather in New York City for this year's Toy Fair, attention is sure to be focused on booth #6033, where David Kalvitis will once again wow the world with his unique, intricately designed and hand crafted puzzle books. As fellow award-winning game designer and consultant Peggy Brown said, "You did a brilliant job of bringing back the Dot-to-Dot, and made it a classic all over again. I'm seeing spots!"
###