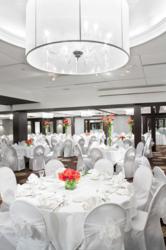 Weber's Boutique Hotel was chosen as the top 5% of local wedding professionals.
Ann Arbor, Mich (Vocus/PRWEB) February 02, 2011
Michigan boutique hotel Weber's has been selected to receive the prestigious WeddingWire Bride's Choice Awards™ 2011. The Michigan wedding reception site was chosen as the top 5 percent of local wedding professionals. As the host of many elegant Michigan wedding receptions, Weber's has continued to offer the highest levels of service to every client-couple since its founding in 1937.
Weber's collaborates with all client-couples to create an individualized plan for a genuine experience, painting the perfect dream wedding. The cherished memory will last forever and Weber's wedding professionals recognize the important of a seamless, worry-free event. Weber's has the highest level of caring professionals to cater to all your needs and create the wedding you have been dreaming of.
Recognition of this award for Weber's Restaurant & Hotel is based on over 750,000 WeddingWire Newlywed's extensive reviews and survey responses. Of the many diverse couples responses one thing is clear: Weber's Restaurant & Hotel is the best wedding reception site and wedding catering in Michigan. The best means the highest level of service from the most skilled and caring professional wedding planners, pastry chefs, cook chefs, and general staff with decades of experience that share the unified goal bringing your dream wedding to life.
To learn more about the Weber's Inn Bride's Choice Award, visit: http://www.weddingwire.com/reviews/webers-inn-ann-arbor/d55180087a0d19eb.html
About Weber's Inn:
Located in the heart of Ann Arbor, MI, just minutes from the University of Michigan, Weber's Hotel and Restaurant specialize in weddings, conventions and conferences. Serving the hospitality needs of business and leisure travelers as well as local Ann Arbor dining guests, Weber's features a four-seasons recreation area, complimentary Wi-Fi, 9,300 square feet of high-tech event space, and live music in its Habitat Ultra Lounge.
Weber's Inn & Restaurant is rated 4-star by Orbitz and Travelocity and has been chosen as an Expedia Insiders' Select Hotel, one of Expedia's top-ranked properties for 2010.
For more information, visit: http://webersinn.com.
About WeddingWire, Inc:
WeddingWire.com, the nation's leading technology company serving the $70 billion wedding industry, is the only online wedding planning resource designed to empower both engaged couples and wedding professionals. For engaged couples, WeddingWire offers the ability to search, compare and book over 200,000 local wedding vendors, from wedding venues to wedding photographers to wedding cakes. WeddingWire also offers an online community and a suite of cutting-edge planning tools for weddings, including wedding websites and wedding checklists, all at no charge. For wedding professionals, WeddingWire provides free online management tools creating the only market opportunity that gives local businesses control over their clients, reviews, leads and performance.
###