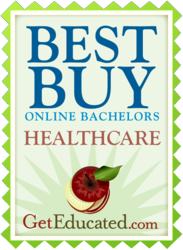 "GetEducated.com's research confirms that the cost for an online bachelors degree in healthcare can vary from under $25,000 to over $86,000" - Vicky Phillips, Chief Online Education Analyst
Burlington, VT (Vocus/PRWEB) February 01, 2011
Which online university tops the rankings by offering the most affordable online bachelors for healthcare career professionals?
According to GetEducated.com, a consumer group which publishes online university rankings, the most affordable Online Bachelors in Healthcare Degree comes from Western Governor's University (Utah).
Get Educated's online bachelor degree cost rankings are based on a review of 22 online universities (regionally accredited) that offer 32 different online healthcare degrees in career areas such as healthcare management, health administration, medical records informatics, dietetics, sports health, and nutrition.
According to the GetEducated.com online university rankings team, the average cost for an accredited bachelor's degree program in healthcare, including tuition and distance education fees, is $45,600.
The Online Bachelor of Science in Health Informatics at Western Governor's University ranked as the top most affordable degree. Students nationwide will pay a low cost of about $23,500 for this 100% online bachelor's. WGU is a private, non-profit university.
The most expensive online bachelor's degree in the online education survey is the Bachelors of Science Health Services Administration from Berkeley College, a private, for-profit, West Virginia university. The Berkeley online bachelor cost about $86,900.
GetEducated.com's complete Rankings for Affordable Online Healthcare Degrees is posted on the distance learning research firm's website.
"GetEducated.com's research confirms that the cost for an online bachelors degree in healthcare can vary from under $25,000 to over $86,000," says Vicky Phillips. "Our mission is to help consumers get educated about cost and credibility before they whip out their credit cards to enroll."
Phillips founded GetEducated.com in an effort to bring transparency to the process of helping consumers find credible information about affordable online degrees.
About: Founded in 1989 by distance learning experts, GetEducated.com publishes unbiased online university rankings, reviews, and ratings along the dimensions of cost, affordability, and credibility.
CONTACT: Vicky Phillips, GetEducated.com, Burlington VT 05451. 802-899-4866. Website: http://www.geteducated.com
###