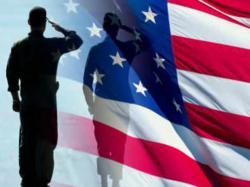 Fairfax, VA (Vocus/PRWEB) February 02, 2011
Residential lender Patrick Cunningham, Vice President at Home Savings & Trust Mortgage, is responsible for lending millions of dollars each year to eligible Veterans. These Veterans use the money to purchase homes in Virginia and Maryland marketplace. In addition to being a local market leader with the Veterans Affairs Home Loan product, The Patrick Cunningham Team at Home Savings & Trust Mortgage is donating partial proceeds for each VA transaction they do to the Wounded Warrior Project. "It's just a great charity and we want to show our appreciation for these past and present service members."
Although HST Mortgage and Pat Cunningham offer many different types of financing, one area of strength is lending to veterans. "We typically offer pricing on VA loans that is better than the credit unions and big banks," says Pat. The client service they are able to provide to the veteran is also much better than they will receive dealing with a large credit union or big bank. It is a much more personalized service and market expertise than veterans typically find with other lenders. "We also have more flexibility and like to give the veterans the benefit of the doubt when it comes to lending decisions. We do deals everyday that the larger banks and credit unions do not know how to put together, or have turned down due to excessively tight internal underwriting requirements. These veterans have put their neck on the line for our country. So we roll out the red carpet for them, give them the best pricing, and the most favorable lending decision so they can buy their dream home."
Some of the benefits of Veterans Affairs financing are:

100% financing
Flexible credit approvals
No mortgage insurance
Loan amounts in DC Metro area $818,750
Low fixed rates
Loans are assumable by other veterans
The Pat Cunningham team started this donation in 2010 and will be sending thousands of dollars to the Wounded Warrior Project in 2011. They are looking forward to helping Veterans and their families achieve the dream of home ownership, as well as support the Wounded Warrior Project as it continues to help our veterans. Local real estate professionals can request or schedule a VA training presentation at their office by calling (703) 766-4636 or emailing Pat's team at pcunningham@hstmortgage.com . The presentation is called "5 ways VA lending will help you sell more homes." It enables real estate pros to be a great resource to our local veterans in purchasing or selling their home. Veterans can schedule a phone or office appointment with Pat to discuss their goals by calling the office at (703) 766-4636 or emailing at pcunningham(at)hstmortgage(dot)com . More information about the team and their beliefs about client service can be found at http://www.pcunninghamhomeloans.com and the blog at http://www.pcunninghamblog.com.
###