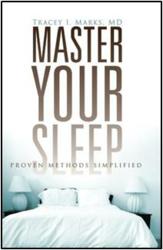 Dr. Marks outlines numerous simple methods that support the body to fall asleep at bedtime and wake up refreshed. She has an easy-to-read, straightforward style with a refreshingly sensible and practical approach.
Minneapolis, MN (Vocus/PRWEB) February 02, 2011
Approximately 100 million people are tossing and turning their way through troubled nights, but many people who have problems sleeping will never seek professional help. Master Your Sleep: Proven Methods Simplified, by author Tracey I. Marks, MD will help suffers understand their sleep problems so they can regain control of their nights AND their life. Stop "living with" that sleep disorder and take action to end it.
With nearly100 million people unable to sleep every night the percentage of the population suffering from insomnia exceeds the Centers for Disease Control and Prevention's present estimates for heart disease and diabetes.
Master Your Sleep is for those people who want answers about sleep problems. Dr. Tracey Marks explains how and why we sleep and delves into the many types and potential causes of sleep disruption. Master Your Sleep will help readers understand their sleep patterns and provides an extremely thorough exploration of potential treatments, from herbal and prescription medications to a variety of therapies.
From the simple to the complex, Dr. Marks explains the potential risks and benefits found in all treatment methodologies. Master Your Sleep is an invaluable addition to the libraries of those who suffer from sleep disorders and family members of sufferers.
Preview copies of Master Your Sleep are available in consideration of a review or interview with the author. For more information please visit: MasterYourSleepBook.com
About the Author: Tracey I. Marks, MD is an Atlanta psychiatrist and psychotherapist who has appeared as a frequent forensic contributor on TruTV's "InSession." Dr. Marks graduated from Duke University and holds a medical degree from the University of Florida. She completed her psychiatry residency training at The New York Presbyterian Hospital, Cornell Medical Center. Dr. Marks also has sub-specialty training in Forensic Psychiatry.
###