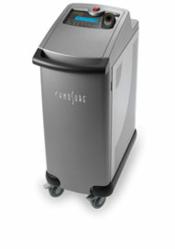 New York, NY (Vocus/PRWEB) February 03, 2011
Cynosure's Elite Aesthetic Workstation is one of the most comprehensive laser hair removal system available today. Since it is designed for all skin types, it can treat the broadest range of clients. In addition, the system is optimized for effective treatment of facial and leg veins, as well as benign epidermal pigmented lesions.
The Best of Both Worlds
The Elite removes unwanted hair with unsurpassed efficacy and client comfort. That's because its revolutionary technology combines two optimal wavelengths in one system: the 755-nm Alexandrite laser and the 1064-nm Nd:YAG laser.
Easy, Safe, Effective And Fast
· The 755-nm wavelength has high melanin absorption characteristics and proven long-term results for permanent hair reduction and pigmented lesion removal.
· The high-powered 1064-nm Nd:YAG is the safest wavelength for permanent hair reduction on darker skin types and tanned skin. It is also the wavelength of choice for treatment of facial and leg veins—the most common form of vascular lesions.
· The Elite delivers high fluence from large spot sizes-ensuring deeper penetration, faster treatment sessions and optimal results.
About LaserTouch Aesthetics:
LaserTouch Aesthetics cosmetic procedures and laser hair removal center, located in New York City, provides laser hair removal, laser skin rejuvenation, microdermabrasion, cellulite treatment, smartlipo and other aesthetic procedures for female and male clients of all skin complexions. In order to best serve clients, LaserTouch Aesthetics utilizes the most advanced and safest laser and aesthetics technologies such as Cynosure Elite, Candela GentleLASE®, GentleYAG®, Cutera® Xeo, Viora Reaction and Cynosure MPX. LaserTouch Aesthetics is the laser hair removal center of choice that offers the most extensive variety of lasers in New York City and the US.
Services at LaserTouch Aesthetics include but are not limited to laser hair removal, ingrown hair treatment, smartlipo, laser genesis, laser vein removal, freckle removal, sun-spot removal, cellulite reduction, skin tightening, mole and wart removal, radiosurgery, chemical peels, acne treatment with Levulan, VI Peel, Botox, Dysport, dermal fillers such as Juvederm, Radiesse, Restylane, and microdermabrasion(*).
For more information, visit lasertouchsoho.com or call 212-219-1990 for a free consultation. To follow the latest in aesthetics, visit
lasertouchsoho.com/blog.
For directions to LaserTouch Aesthetics from New Jersey, Brooklyn, Queens, Staten Island, Long Island, and Manhattan including downtown, Tribeca, Soho, Noho, West Village, Chelsea, lower east side, midtown, Murray Hill, upper west side, upper east side and Harlem, visit http://www.lasertouchsoho.com/contactus.html.
LaserTouch Aesthetics operates in two clinics conveniently located at 150 Spring Street, Floor 2, NY, NY 10012 and 57 W. 57th Street Suite 809, NY, NY 10019.
(*) Dr. Vafa of New York Medical Aesthetics provides all medical aesthetics services and procedures. Please refer to our website http://www.lasertouchsoho.com for more information on services that Dr. Vafa provides.
# # #