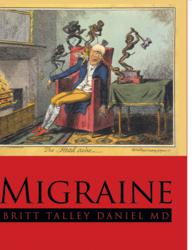 Dallas, TX (Vocus/PRWEB) February 02, 2011
According to the U.S. Department of Health, 29.5 million Americans are affected by migraine. In women migraine is the most common, chronic medical problem, with 25 percent of women experiencing migraine in their lifetime. Dr. Britt Talley Daniel, author of the informative book, Migraine (published by AuthorHouse), calls migraine "the most difficult, mysterious and prevalent of all medical conditions."
Daniel, a practicing neurologist, was inspired to write the book after answering patients' migraine questions. He calls his patients the real "writers" of this work. "The authors walked into my office during my years of practice, sat down across from me, and told me their story," says Daniel. "I am just playing back what I heard, and tidying the loose ends."
While most books on headaches only have short chapters devoted to migraine, Migraine contains anything and everything about migraine. The book is directed to those suffering from migraine, medical students, neurology residents, general doctors, and headache specialists. The book describes how to clinically diagnose migraine, typical and unique doctor-patient dialogues, and treatments of migraine.
Chapters feature information about the history of migraine, epidemiology, the migraine lifestyle, and current evidence-based advice on preventive therapy—all drawn from credible resources, with references and historic case studies. The book also contains information about cutting-edge headache issues such as:

Medication overuse headache
Footballer's migraine
Retinal migraine
Vertigo
Sexually-induced migraine
Confusional migraine
About the Author
Britt Talley Daniel, M.D., attended the University of Texas at Austin for undergraduate work and obtained a medical degree from the University of Texas Medical Branch at Galveston in 1970. He spent his residency in Neurology at the Mayo Graduate School of Medicine in Rochester, Minn., and then served honorably as a Lieutenant Commander in the Neurology Department of the U.S. Navy. Daniel was part of the senior staff at Scott and White Hospital and an Associate Professor of Neurology at the University of Texas A&M from 1978 to 1982. He was Clinical Associate Professor of Neurology at the University of Texas Southwestern Medical School from 1982 to 1998, and now is in private practice in Dallas.
AuthorHouse is the leading provider of self- publishing, marketing, and bookselling services for authors around the globe. For more information, visit http://www.authorhouse.com.
###