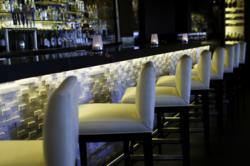 "We are incredibly proud of Agave Sunset Tequila, and consider it a privilege to have a privately labeled product from one of the oldest and most respected tequila distilleries in the world." - Steven Carl, Hyatt Grand Champions
Indian Wells, CA (Vocus/PRWEB) February 01, 2011
Hyatt Grand Champions Resort Villas and Spa near Palm Springs announces the launch of its privately labeled Agave Sunset Tequila, which will be available exclusively at the Indian Wells resort. Handpicked by the Hyatt Grand Champions team, this specialty tequila hails from the Mexican state of Jalisco. Double distilled at the 145-year-old Herradura distillery, Agave Sunset Tequila presents a smooth and smoky flavor with an even and rounded finish.
Agave Sunset Tequila is a double barrel reposado tequila that is aged for a total of 12 months. This variety is first "rested" or aged for 11 months, which is an additional nine months longer than reposado category standards. Following the aging process, the tequila is then moved to a new barrel for one month, where it obtains its deep copper color and exceptionally smooth taste.
For the Indian Wells resort, it was not just about choosing the perfect tequila, but more about being a part of the process. After a series of visits to Mexico in 2010, the director of food and beverage Steven Carl at Hyatt Grand Champions sampled an array of aged barrels before selecting the most suitable tasting tequila envisioned for Agave Sunset.
"It was such a great experience to be a part of the whole process. From chopping down our own agave plant to tasting tequila right from the barrels, we really had a hand in the creative process of the tequila production," said Carl. "We are incredibly proud of Agave Sunset Tequila, and consider it a privilege to have a privately labeled product from one of the oldest and most respected tequila distilleries in the world."
Available in the Palm Springs area resort's new lobby bar, Agave Sunset, the Agave Sunset Tequila will be featured in an array of signature cocktails including the Sunset Margarita made with Fresh Lime Juice, Agave Syrup, a Cointreau Float, Sweet Lemon-Salt Rim and Grenadine "Sink." Other featured cocktails include House-Made Sangrita, a traditional Mexican accompaniment served with signature Agave Sunset Tequila, and the Watermelon Smash, made with Muddled Watermelon, Jalapeno, Mint and Tequila. The extensive tequila list at Agave Sunset features more than 40 tequilas and 10 mezcals from the Jalisco region of Mexico, including the exclusive Agave Sunset Tequila.
With the oldest standing original distillery in Mexico, Herradura has been producing a majority of Mexico's tequila product since 1870. Herradura uses a natural fermentation process with an open barrel distillery process. Adjacent to the factory are fields of mangos and pomegranate trees. A natural breeze allows the naturally occurring yeast from the plants to flow into the factory and into the open barrels for a natural fermentation process.
To see videos of the agave harvest, visit Hyatt Grand Champions' Facebook page.
For more information regarding Hyatt Grand Champions Resort, Villas and Spa, contact the resort by phone at (760) 341-1000 or visit the resort website at: http://www.hyattgrandchampions.com .
# # #
About Hyatt Grand Champions Resort, Villas and Spa
Nestled in 45 acres of lush gardens and shimmering fountains in Palm Springs, Hyatt Grand Champions Resort, Villas and Spa is a destination resort offering an oasis of endless sunshine and warm hospitality. The only resort in the Palm Springs area offering 43 private one- and two- bedroom villas with 24-hour butler service, this 530-guestroom resort's spacious design and world-class service seamlessly incorporates the natural beauty of the desert. Featuring the award-winning Agua Serena Spa and Medical and Skin Spa, delectable dining options, seven pools, and more than 88,000 square feet of flexible function space, the resort offers both leisure and business travelers the quintessential Palm Springs experience. Hyatt Grand Champions Resort, Villas and Spa has received numerous notable awards, including the prestigious AAA Four Diamond Award for more than 20 consecutive years. For more information, visit http://www.hyattgrandchampions.com