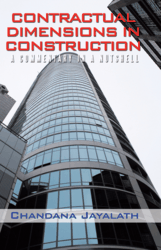 New York (Vocus/PRWEB) February 02, 2011
Engineers, quantity surveyors, architects, commercial managers, planners and contract administrators all contribute to the successful completion of a construction project. Everyone has a crucial role to play in the process. Contractual Dimensions in Construction – a Commentary in a Nutshell (published by iUniverse) by author and engineering expert Dr. Chandana Jayalath provides a reference book of proper advice whenever demystifying commercial and contractual issues may be required. In the case of international construction, it can be quite often.
Construction contractors must regularly wade through complicated contractual and technical issues. Claims and disputes can ruin a project or prevent it from even getting started. While many studies concentrate on case law imported from different jurisdictions, Contractual Dimensions in Construction takes a practical approach that relies on quantity surveying. This approach is holistic in nature by taking up commercial, contractual and technical aspects in one go, which enables all parties involved to establish and maintain fair agreements for a dispute free project delivery.
With Contractual Dimensions in Construction, readers will learn how to anticipate and avoid problems while concentrating on solutions. Topics covered in Contractual Dimensions in Construction include contract formation, existence, and invalidation; contract and pricing modalities; contract interpretation; attributes of contractual provisions; and defaults and remedies. Contractual Dimensions in Construction also provides details on the duties, rights and obligations of the signatory parties to a contract, as well as the issues related to commencement, completion, extension and damages. Among those discussed together with their limitations and hypothesis underlying a wide range of contractual application are the principles of fair valuation, quantum meruit, loss and expense, concurrency, prevention, mitigation, best effort, dominance, cardinal change, good faith and fair dealing.
This book is useful for all construction professionals in general, as well as those involved in contracts review, advice and administration. Equally, the undergraduates and graduates in quantity surveying, cost engineering and other related engineering disciplines may also find this book valuable immensely throughout their studies and professional progression.
About the Author
Accolades Dr. Chandana Jayalath has received include membership in the Chartered Institute of Arbitrators in the United Kingdom, Fellow of the Royal Institution of Chartered Surveyors in the United Kingdom and being named a Fellow of the Institute of Quantity Surveyors in Sri Lanka. He currently works in the Gulf region as a claims and contracts specialist. He is a renowned speaker and has been invited to present at many international venues. Jayalath has served as an external mentor for many post graduate programs, and has published more than 150 technical papers.
iUniverse is a premier book publisher for emerging, self-published authors. For more information, please visit http://www.iuniverse.com.
###