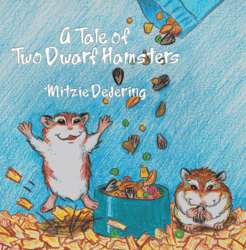 Neenah, WI (Vocus/PRWEB) February 02, 2011
In the picture book A Tale of Two Dwarf Hamsters (published by AuthorHouse), author Mitzie Dedering tells a story about the love that a young, newlywed couple shares with their two little pet hamsters. The enchanting tale captures the relationship the couple develops with their animals, from the moment they first see the hamsters playing in the pet store cage to the end of the story when they celebrate the birth of baby dwarf hamsters and send them off with other eager pet owners. Colorful illustrations help communicate the fun activities the family experience together.
The boy and girl rushed home and began to set up house for their little critters.
They purchased the best hamster food and aspen chips they could find to suit the hamsters' needs. Nothing was too good for their two little furry friends that had now become a part of their family.
The two hamsters play lots of games and embark on many adventures with the young couple. From trips to the backyard and running around in colorful plastic balls to nightly stories and tender lullabies, the animals share lots of special memories with the boy and girl. In addition to describing fun day-to-day activities and routines, Dedering also touches upon more serious topics such as the sadness that the death of a pet brings to its family. She also portrays the excitement and intrigue of witnessing a pet give birth.
Not that Jerry cared about Bell's hamster figure, but he too noticed her belly
expanding and the slow gait to her walk. Then the big day came when the boy and girl awoke to squeaking and squealing in the dwarfs' cage. Sure enough, Bell was in the middle of her delivery! The boy and girl knew that they had to leave Bell alone to have her babies. They also knew that Jerry had to be separated for a time from Bell. Jerry did not like this, but he saw his darling Bell delivering his pups. He sat fascinated, as did the boy and girl, watching the births.
A Tale of Two Dwarf Hamsters artfully conveys the love that people feel toward their pets and successfully captures how animals can truly bring joy to a home.
About the Author
Mitzie Dedering is a full-time sales person and is a life-long resident of Neenah, Wis. She is a mother of one son, James, who is married to Sarah, the illustrator of their first children's book,
A Tale of Two Dwarf Hamsters. Dedering has an active imagination and she has brought to life the special connection people have with their pets.
AuthorHouse is the leading provider of self- publishing, marketing, and bookselling services for authors around the globe. For more information, visit http://www.authorhouse.com.
###