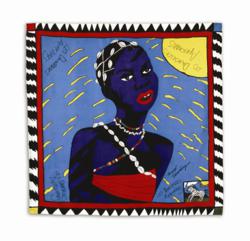 (Vocus/PRWEB) February 02, 2011
Beginning Friday, February 4, Hampton University Museum (the oldest African-American museum in the United States) welcomes Her Story: Margo Humphrey Lithographs and Works on Paper, a free exhibition highlighting the career of one of America's premier printmakers. Organized by the David C. Driskell Center for the Study of Visual Arts and Culture of African Americans, and the African Diaspora at the University of Maryland, the works presented will showcase more than 45 years of artistry.
Now an Associate Professor of Art at the University of Maryland, Humphrey first emerged in the dynamic Northern California arts scene of the 1970s. During this time, she developed a "sophisticated naïve" style, a technique characterized by expressive figuration and the bold use of color. Humphreys depicts themes such as African- American culture, food, music, religion, and social issues, in her work. Though her imagery is a often a direct reflection of personal experiences, it is also derived from the condition and circumstance of being black in America.
For more information on Her Story: Margo Humphrey Lithographs and Works on Paper, contact Hampton University Museum at 757/727-5308 or check out http://museum.hamptonu.edu/exhibitions_calendar.cfm
Her Story: Margo Humphrey Lithographs and Works on Paper
February 4, 2011- May 9, 2011
Hampton University Museum
11 Frissell Avenue
Hampton, VA 23669
Monday - Friday- 8:00 a.m. – 5:00 p.m.
Saturday Noon- 4:00 p.m.
Closed Sunday, major holidays, campus holidays
Partially bordered by the Hampton Roads harbor and Chesapeake Bay, Hampton, with the 344,000 sq. ft. Hampton Roads Convention Center, is located in the center of the Hampton Roads metropolitan area. Hampton is the site of America's first continuous English-speaking settlement and is home to such visitor attractions as the Virginia Air & Space Center and Riverside IMAX ® Theater, Hampton History Museum, harbor tours and cruises, Hampton University Museum, Fort Monroe, award-winning Hampton Coliseum, The American Theatre, among others.
###