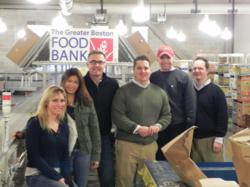 President/CEO, Bill Darcey comments, "This is a great way for us to connect with our community, reflect on how we can make a difference and its rewarding to know that you are helping such a worthy cause."
Needham, MA (Vocus/PRWEB) February 02, 2011
As an insurance agency that prides itself on giving back to the community Provider employees recently travelled to The Greater Boston Food Bank to help bag groceries for a few of their special project programs.
Provider Insurance is proud of its employees for taking time out of their busy day and braving the elements to volunteer at The Greater Boston Food Bank. Volunteers are critical to the work they do every day in feeding the hungry. The Greater Boston Food Bank manages the largest internal volunteer program in the region, averaging more than 10,000 volunteers a year. Provider is happy to play a small part in helping to feed those less fortunate.
Provider Insurance sent six of its employees over to the food bank. These employees included: President/CEO - Bill Darcey, Marketing Director- Ruby Chan, Marketing Manager - Julie Wetherbee and Sales Producers - Pete DiNardo, Glen Davis and Patrick Darcey (whom travelled from the Provider Rhode Island office to join in the fun). At The Greater Boston Food Bank the Provider staff got to work on and complete a few special projects – The BackPack program and The Brown Bag program.
The BackPack program was designed knowing that a hungry child is not going to learn and thrive. Therefore, The Greater Boston Food Bank currently partners with the Lawrence and Lynn School Systems to provide food in select schools for children at-risk of going hungry over a weekend or holiday. Children in these schools are chosen because there is a need demonstrated by rates of free/reduced lunch program participation, or they are located in neighborhoods with limited access to charitable services such as food pantries or soup kitchens, or there is such minimal adult/parental involvement that these services are not made available. It is clear that providing schoolchildren who are at risk of hunger with backpacks filled with nutritious food plays an important role in reducing childhood hunger. Provider employees stuffed 550 bags for this program completing the task for them for the week.
Provider also worked for The Brown Bag program which works in partnership with a variety of community organizations, providing a supplemental bag of groceries to seniors and families with children. A typical bag might contain milk, cheese, pasta, rice, ground beef, tuna, green beans, peanut butter, and oatmeal, based on availability. The Food Bank delivers those bags once a month, along with a well-thought-out selection of food items, to senior and community centers throughout the region. On site Brown Bag Coordinator and volunteers then pack grocery bags and distribute to their client base.
President/CEO, Bill Darcey comments, "I'm so proud of our team at Provider. This is a great way for us to connect with our community, reflect on how we can make a difference and its rewarding to know that you are helping such a worthy cause. We often encourage our employees to get involved in volunteering activities and plan to volunteer once a quarter to help those less fortunate."
About the Provider Insurance
Founded in 1945, Provider Insurance is a Trusted Choice insurance agency that has grown over the past 60 plus years into a world class, client focused organization. After a rigorous examination and fitness review of 17 quality points, Provider was awarded the Five Star designation, which is held by less than 1 percent of insurance agencies in New England. Headquartered in Massachusetts, Provider also has an office in Woonsocket, R.I. where it was voted 'Best Place to Work.'
###