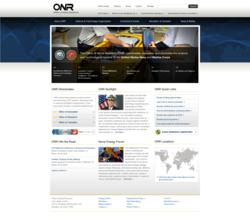 "NavigationArts has demonstrated excellence in creating a site that combines a creative design with rich data sources and applications to educate, inform, and motivate site visitors," said the Vice President Client and Partner Engagement at Sitecore
McLean, Virginia (Vocus/PRWEB) February 02, 2011
The Office of Naval Research, a client of NavigationArts, a leading web consulting firm, has won Sitecore's North American Site of the Year for Best Government Website. This award recognizes a governmental organization that leverages Sitecore's content management system (CMS) technology to develop an outstanding web presence and to deliver an engaging online experience. The distinction also highlights website creativity, CMS integration with rich data sources and applications, as well as the ability to leverage the web to engage, educate, and motivate users to take specific actions. NavigationArts collaborated with the Office of Naval Research (ONR) to develop a comprehensive web strategy, conduct user research, create a refreshed website architecture and design, and select a CMS.
"ONR has stepped out in the lead with their website, certainly far ahead from most other government agencies," said Leo Mullen, CEO of NavigationArts. "With its appealing design and intuitive structure, ONR has a very effective web platform. Congratulations to ONR for being named Best Government Website of the Year by Sitecore."
ONR's website reflects its status as one of the nation's leading research and development organizations. As an executive branch agency within the Department of Defense, ONR conducts research and provides technical advice to the Chief of Naval Operations and the Secretary of the Navy. The role of ONR's public facing website is to help ONR communicate its successes, as well as to enhance collaboration between ONR, the fleet, and the nation's broader scientific and educational communities. With its recharged user-centered design, the website effectively engages these distinct audiences and supports the organization's mission. Additionally, the sleek website design signals the sophistication of the organization.
"NavigationArts has demonstrated excellence in creating a site that combines a creative design with rich data sources and applications to educate, inform, and motivate site visitors," said Jason Crea, Vice President Client and Partner Engagement at Sitecore. "We were impressed with the overall design and user experience of the ONR site."
Sitecore is a trusted technology partner of NavigationArts.
The full ONR case study can be found on NavigationArts' website.
NavigationArts is a full-service web consultancy specializing in web strategy, user experience design, and technology. We help our clients meet their business needs by optimizing their web presence for communication, e-commerce, community building, and more. We help our clients solve challenging problems by bringing together highly experienced cross-functional teams drawn from analytical, creative, and technical backgrounds. At NavigationArts, we believe that user experience is the only sustainable competitive advantage online. Our mission is to create online experiences that are most satisfying for our users and most valuable for our clients. For more information, go to http://www.navigationarts.com.
# # #