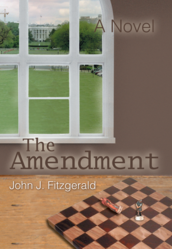 The key to the story is the 25th Amendment.
(Vocus/PRWEB) February 03, 2011
John Fitzgerald author of "The Amendment" a historical novel 'fitzgeraldbook.com' has signed an agreement with New Yorker Rob Parry IV to write the screen play for the movie version. This novel was first published in 2005 with little notice; however since the publication it has found a strong growing base of readers.
While visiting a mental institution in upstate New York, a Catholic priest encounters a strange patient by the name of Jude Thaddeus. For some unknown reason Jude has been incarcerated and heavily sedated for many years. In a brief encounter Jude secretly passes an ingeniously disguised manuscript. This political thriller reveals perhaps the greatest conspiracy in American history. Jude, a former Wall Street power broker and a potential grandmaster had the chess skill and financial backing to set in motion an intricately crafted scheme, to fulfill the lifelong presidential dream of New York Governor, Nelson Rockefeller. The key to Jude's strategy was an Amendment to the U.S. Constitution. Also included in this captivating saga were manipulated elections, an oil crises, the Watergate setup, and other true historical events. This persuasive narrative seamlessly weaves fact with fiction. The reader is left of ponder, is this the imagination of a lunatic or did this really happen? ISBN 0-595-78770-3...fitzgeraldbook.com
Mr. Parry read 'The Amendment' in his senior year at Fordham University. He was impressed with the story line and believed the novel could make a fascinating movie.
Rob said "Reading the Amendment is like the watching the movie Titanic. You know the results of the story, and all what happening but it's so captivating. I know this could be a great movie."
Robert John Parry IV, A graduate of Fordham University at Lincoln Center. Rob is a writer and performer living in New York City. He is currently a member Speakeasy combines sketch and stand-up comedy with musical acts, and encourages young artists to join in and bring their own new material to the stage, all with a touch of Rat Pack class.
Rob has written over a dozen plays and has been producing his work for the last six years. The Amendment will be his first venture into the big screen.
###