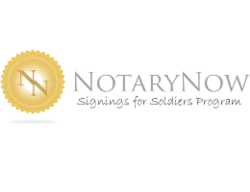 Some daily tasks we take for granted here are extremely hard for our active, travelling military. I am thrilled we can help reduce one more stress for military members and their families.
Newark, NJ (Vocus/PRWEB) February 02, 2011
NotaryNow, the first online notary service, announced today the launch of its free Signings for Soldiers program for military members, their families, and veterans for all of 2011. NotaryNow's technology allows users to notarize remotely by connecting to a notary over webcam. It will be making all of its services completely free for US active duty military members, military families, reservists, national guard members, and veterans, representing over 25 million men and women who protect the United States.
With a staff full of veterans and military families, NotaryNow is uniquely suited to help soldiers and their families who need to complete paperwork requiring notarizations. NotaryNow, who employs notaries from states where online notarization is legal, noted that one of its notaries came up with the idea. As a military wife, she immediately saw the benefit of this system for active duty members who have difficulty finding a reliable notary while constantly traveling and working the late hours necessary to run a war.
CEO Chris Hawkins, a West Point graduate and former Army officer, immediately latched on to the idea and realized that NotaryNow is in a great position to help our military members and families. He explained, "I saw first hand how difficult the military lifestyle is, and making notarizing convenient and secure is a small way for us to give back to those who give so much to us."
To be eligible for the Signing for Soldiers program, any current or new user simply adds a valid military ID to their account. The notary will activate your account to ensure all your signings are free. Brian Herrin, a fan of the program and a member of the US Army, commented: "When I first saw NotaryNow, I thought it was something that I could really use in the military. Moving around makes everything harder, and notarizations are usually difficult, expensive, or both. I am excited that I have the option to work with an online notary. Making it free is just a bonus."
In addition, NotaryNow will give $1 for each of the first thousand Facebook "Likes" on the NotaryNow Facebook page to the Wounded Warrior Project, a not-for-profit group helping injured service members. NotaryNow's CEO, Chris Hawkins, is a disabled military veteran and has agreed to give 100% of his 2011 disability pay to support the WWP if they break 1,000 Likes. NotaryNow has indicated that it plans to expand its charitable offerings throughout the year in order to provide convenient notary services for those who need it most.
Andrew Ellis, President of NotaryNow, described the goal of the program: "Some daily tasks we take for granted here are extremely hard for our active, traveling military. I am thrilled we can help reduce one more stress for military members and their families."
For more information, go to http://notarynow.com/signings-for-soldiers. To help support the Wounded Warrior Project, "Like" NotaryNow on facebook at http://www.facebook.com/pages/NotaryNow/166938456662275.
About NotaryNow
NotaryNow is the first online notary service, allowing individuals to connect to a notary using a webcam over notarynow.com. Their mission is to prevent fraud by eliminating any doubt in who executed a contract by combining the techniques of traditional notaries with advanced electronic tools. NotaryNow is a pioneer in electronic signatures and authentication techniques, and offers all new customers their first notary signature free at notarynow.com.
About Wounded Warrior Project
The mission of the Wounded Warrior Project® (WWP) is to honor and empower wounded warriors. WWP's purpose is to raise awareness and to enlist the public's aid for the needs of injured service members, to help injured servicemen and women aid and assist each other, and to provide unique, direct programs and services to meet their needs. WWP is a national, nonpartisan organization headquartered in Jacksonville, FL. To get involved and learn more, visit woundedwarriorproject.org.
# # #