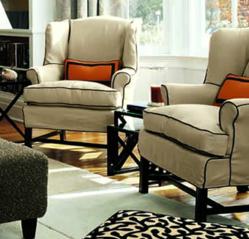 Today's custom-made slipcovers can change the look of a room instantly and extend the life of your upholstery. They're growing in popularity because they are practical, affordable—and they look great!
(Vocus/PRWEB) February 10, 2011
Slipcovers have come a long way from the sloppy cover-ups of years past. When they are custom made to fit perfectly, slipcovers are a stylish facelift for upholstered furniture and dated seating. Here are tips from Calico Corners – Calico Home on making designer slipcovers.
When sofas and chairs are comfortable and in great condition, but look about as current as big teased hair, leg warmers and headbands from the 1980s, what can be done? Short of replacing the furniture, is a quick facelift possible? The answer is custom slipcovers—made just for that piece of furniture so that the fit is perfect.
"Slipcovers have come a long way," says Julie Morris, director of custom labor programs for the Calico Corners – Calico Home stores. "Today's custom-made slipcovers can change the look of a room instantly and extend the life of your upholstery," she adds. "They're growing in popularity because they are practical, affordable—and they look great!"
These are definitely not the clear plastic protection a grandmother may have used to encase her furniture; nor are they those "one-size fits all" ready-made covers that look like big fabric shower caps, with elastic sewn in to help them stay on (sort of—they never fit very well, says Morris).
Julie Morris explains that unlike reupholstery, slipcovers can be either a permanent change or a temporary one. "Perhaps you love your chenille sofa but the fabric seems a bit too heavy for spring and summer. If you'd like to freshen your room for a change of season, but don't want to permanently change the look, slipcovers are a great solution," she notes.
Slipcovers are also a wonderful way to improve the look of furniture that's structurally sound but perhaps just a little tired. If the cushions are not in great shape, the foam interior can be replaced or wrapped in polyester batting to add fullness. And on the practical side, slipcovers are easy to clean if a home includes children or pets—the covers can be unzipped and dry-cleaned (also a boon for vacation homes that are rented out). Slipcovers can also be made out of the furniture-weight Sunbrella™ fabrics available at Calico, where spills can be cleaned up simply with soap and water.
"If you have a sleep sofa, it can still be slipcovered," says Morris. An extra zipper can be added on the decking portion of the sofa (beneath the seat cushions) so that the mattress can be pulled out without removing the slipcover. Guests never have to see what's underneath.
"The other great thing about updating your furniture with slipcovers is that you're never without your furniture," states Morris. "Unlike reupholstery, where the furniture is sent out to the upholsterer, the slipcover maker comes to your home to cut and pin-fit the slipcover on your furniture. The cover is sewn offsite while the furniture remains in your home," she adds.
"A week or two later, the slipcover maker brings the finished cover to your home and fits it to the furniture. So while you are waiting for your new slipcover to arrive, you're never without a place to sit," explains Morris. The finished cover will fit just as the customer wishes—glove-tight (to look like a reupholstered piece), or with a relaxed fit, or really loose and casual.
One final advantage to having slipcovers made by Calico Corners – Calico Home is the ability to select the perfect fabric from thousands of choices. "You can also choose dressmaker details for your slipcover such as contrast cording, bias-welting, a flat fabric flange instead of self-welting, shirred corners or a ruffled skirt instead of tailored kickpleats," adds Morris. "Special details make the slipcover uniquely yours."
Slipcovers don't even have to have a skirt, notes Morris. "You can slipcover wing chairs and leave the legs totally exposed by adding fabric flaps faced with Velcro that fasten to the underside of the chair. Or you may want to have a short pleated skirt—this is especially suited to a casual, country look."
For Top Ten Tips on Slipcovers, visit the Calico website at http://www.calicocorners.com and click on Furniture, then Slipcovers/Reupholstery. Slipcover yardage estimates are there too.
Calico Corners – Calico Home stores provide expert decorating advice and free in-home design consultation in more than 90 stores across the country. Consumers will find thousands of designer fabrics for the home at value prices; custom window treatments, blinds and shades; custom upholstered furniture, slipcovers, bedding and more. Thousands of fabrics are available online. For more information or to find the nearest store, visit http://www.CalicoCorners.com or call (800) 213-6366.
###