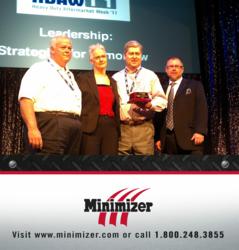 Blooming Prairie, MN (Vocus/PRWEB) February 02, 2011
Minimizer proudly sponsored the Distributor of the Year (DOTY) Awards at Heavy Duty Aftermarket Week '11 in Las Vegas, Nevada, which was held January 17 to January 20, 2011.
The finalists for the coveted DOTY awards included Wheelco, Cook Brothers, Drive Train Industries, Pascale Service Corporation and Stone Truck Parts, the eventual winner.
They were chosen for their strategic business processes, support of the heavy duty industry, and ability to bring success to every industry partner they work with. The award was first established by Randall Reilly's publication, Truck Parts & Service, in 2002 to recognize distribution companies that were doing an exceptional job selling truck parts.
"The award reflects Minimizer's commitment to excellence in the industry," said Craig Kruckeberg, Chief Visionary of Minimizer. "We value strong distributor/supplier partnerships based on mutual respect and ethical transactions. Without this foundation we wouldn't be successful. We're really pleased to present this award to these deserving companies."
Jason Rhoads of Randall Reilly added, "The award is a real honor for a distributor. It reflects a hallmark moment for the company that promotes them as a vested partner in the industry, a company that can be trusted, and a company that is succeeding in representing multiple supplier lines and doing it well."
Minimizer fenders will enhance the performance of all makes and models of over the road trucks, construction vehicles, or agriculture equipment.
Enhance and protect your vehicle with Minimizer products. The toughness is unmatched as seen on this Minimizer promotional video entitled "Tested & Tortured".
To order Minimizer fenders find a distributor by clicking here. Minimizer fenders and related products are available through exclusive Minimizer distributors.
For more information or to contact a dealer, call us at (800) 248-3855 or visit our website or email us at info(at)minimizer(dot)com.
About Minimizer
Headquartered in Blooming Prairie, Minnesota, USA, Minimizer manufactures poly truck fenders, poly toolboxes, customized mud flaps, and bracket kits. Family owned and operated for nearly three generations, Minimizer parent company Spray Control Systems, Inc., was founded in 1983. Minimizer aims to provide products tough enough to please tough people in a tough industry. For more information call (800) 248-3855 or visit http://www.minimizer.com.
# # #