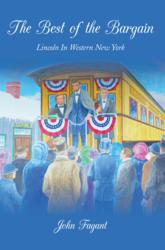 Buffalo, NY (Vocus/PRWEB) February 02, 2011
President Obama's 2008 inaugural journey to the White House made history for a number of reasons – one of which because it mirrored Abraham Lincoln's.
150 years ago this February, Lincoln set off on his inaugural journey from Springfield, Ill. to the White House by train, stopping in locations such as Indianapolis, Cincinnati and Pittsburgh.
In his book, The Best of the Bargain: Lincoln in Western New York, Fagant takes readers into the heart of Lincoln's journey to Washington, D. C., uncovering the smallest details of his journey from Cleveland to Buffalo and from Buffalo to Albany.
A seasoned tour guide in the area, Fagant drew inspiration for the book from David Donald's Lincoln, as he mentions Lincoln "briefly visiting Niagara Falls" in 1848. Contrasting research shows Lincoln may not have visited Niagara in 1848 after all, which sparked Fagant's interest in the topic.
"The sesquicentennial of Lincoln's inaugural journey is upon us," says Fagant. "This was a significant event for Western New Yorkers and for many years afterward was a memorable episode. The story has faded over the years, but maybe it's time to bring it back to the region's attention."
The Best of the Bargain is a reminder of the days past when a president stood face to face with the people of his country. It is an association between the people and their president, which existed early in our history; one in which Americans felt they were part of the political process and one in which they truly believed themselves connecting to their elected leader.
The Best of the Bargain: Lincoln in Western New York
By John Fagant
ISBN: 9781452072937
Paperback 6x9, retail price: $10.99
Hard cover 6x9, retail price: $15.99
Available at http://www.amazon.com and http://www.barnesandnoble.com.
About the author
A local historian, John Fagant has written several articles on the history of Buffalo and Western New York. He gives tours of Buffalo landmarks, including Frank Lloyd Wright's Darwin Martin House and the Erie Canal district. Holding degrees in both history and chemistry, he is an Avox Systems chemist and technician in Buffalo. This is his first book.
**FOR IMMEDIATE RELEASE**
EDITORS: For review copies or interview requests, contact:
Hannah Shaner
Phone: 317-602-7137
Email: hshaner(at)bohlsenpr(dot)com
(When requesting a review copy, please provide a street address.)
###