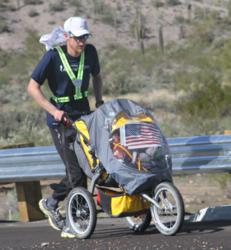 Scottsdale, AZ (Vocus/PRWEB) February 02, 2011
Would you run across the United States? Jeff Grabosky is a man with an inspiring story and is on a mission to bring the power of prayer to the lives of as many people as possible. Grabosky left Oceanside, California on Thursday, January 20th and has successfully arrived in Phoenix, Arizona. After a small rest period, Grabosky will be leaving Phoenix once again to continue his journey across the country.
While Grabosky is making excellent progress on this amazing journey, he wouldn't have been able to without the help of active release massage at Phoenix area Arizona Pain Specialists. Visiting multiple times prior to the start of his journey, Grabosky's training was halted because of debilitating leg pain.
"I had to do something, it was very painful," Grabosky says of the pain in his leg. "Arizona Pain Specialists helped me get back to training very quickly, which I needed to do since I was down to two weeks before my starting date."
The staff at Arizona Pain Specialists took a special interest in Grabosky and his compelling story. "We are very happy we were able to help Jeff and alleviate his pain," Dr. Paul Lynch, co-founder of Arizona Pain Specialists says. "We are proud to be supporting him as he journeys across the United States."
"We so often see people with chronic pain conditions," Dr. Tory McJunkin, co-founder of Arizona Pain Specialists adds. "We can really help those with acute pain as well, like in Jeff's case. So many people with acute pain will think that they will just have to suffer through it, when in fact, a visit to us will usually alleviate that pain and get people back to what they love to do."
Most that have made the journey across the United States have done it for a specific cause, such as breast cancer or in memory of the 9/11 attacks. Grabosky, a Catholic, is running to pray for others. "This started out as a personal mission to strengthen my spiritual relationship with God, but then it turned into incorporating prayer requests for others as well," Grabosky explains. "The more prayer requests I've received, the more I see how people are struggling with any number of issues." Even as he runs, Grabosky is still taking prayer requests via email and his website.
Over the course of only thirteen days, Grabosky has covered nearly 400 miles and arrived in Phoenix last night. Grabosky's journey this far has been nothing less than harrowing, with extreme elevation, cougar encounters and pushing a jogging stroller loaded with over 80 pounds of supplies. In the face of these challenges, Grabosky has remained strong and continues to update his blog with tales from the road.
Tonight, the public will have the opportunity to meet Grabosky and encourage him as he briefly stops in the Phoenix area. Grabosky's celebratory dinner will be at Buca Di Beppo at 7 p.m. in Scottsdale at 3828 N. Scottsdale Road. All are invited to attend!
Check out Arizona Pain Specialists' "Where's Jeff" page to find live updates of where Jeff is!
###