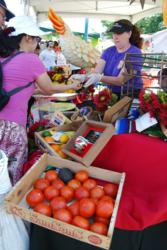 Tempe, AZ (Vocus/PRWEB) February 02, 2011
This spring, escape the winter cold with a visit to sunny Tempe, Arizona. Located in the heart of the Phoenix Metropolitan area, Tempe is a perfect spot for vacationers to soak in the sunny weather while enjoying special events and activities such as spring training, theatre, a variety of festivals and more. The Tempe Tourism Office can provide information about things to do and see, hotel options and insider tips about the best shopping, dining and attractions in Tempe.
Tempe is the perfect home base to enjoy spring training baseball. From February 25 through March 29, 2011, Cactus League Spring Training brings 15 MLB teams to 10 stadiums to play more than 200 games in 33 days. The Los Angeles Angels of Anaheim call Tempe home as they play teams such as the Cubs, the Brewers and the Giants. With several games a day, it's easy to catch your favorite team. And, tickets at the Angels home field, Tempe Diablo Stadium, start at just $6. Cactus League Spring Training schedules, stadium maps, ticket information and Tempe hotel specials can be found at http://www.tempebaseball.com.
Some of Broadway's biggest hits are headed straight for ASU Gammage this spring. Designed by renowned architect Frank Lloyd Wright, ASU Gammage plays host to BILLY ELLIOT THE MUSICAL April 27 – May 8. Based on the international smash-hit film, BILLY ELLIOT is brought to life on stage through one boy's journey to make his dreams come true. The smash-hit musical MAMMA MIA! will take the stage May 17-22 with an enchanting tale of love, laughter and friendship. Featuring ABBA's greatest hits, including "Dancing Queen," "S.O.S." and "Super Trouper," this musical have audiences coming back again and again.
The Tempe Festival of the Arts, March 25-27, features more than 400 artists and craftspeople displaying art ranging from jewelry to sculpture to photography to woodworking. High-end art collectors as well as bargain-hunting art lovers will find something that suits their fancy. This free festival provides a street fair atmosphere with street performers, live music and hands-on activities for children.
In addition to art, festival goers have the opportunity to sample local wine and beer. New this year is the "Art of Beer," where festival attendees will have the chance to sample craft beers from three of Tempe's local microbreweries, Dave's Electric Brew Pub, Four Peaks Brewery and Sleepy Dog Brewery. Beers will also be available for sale by the bottle or case. Guests can also try some local Arizona wines at the Arizona Wine Festival. Wines will also be sold by the bottle or case.
Beer fans are expected to flock to the Great Arizona Beer Festival, held on March 5, featuring over 200 craft, specialty and micro-brewed beers. The Great Arizona Beer Festival is the largest beer festival in the Southwest, both in the number of brewers attending and in the selection of craft beers on tap. Now in its 23rd year, the festival also holds the distinction of being the longest-running beer festival in Arizona, and now includes a nationally sanctioned beer competition. Tickets are $40 in advance and $50 at the gate for general admission, including up to 24 different beer samples, or $80 in advance/$90 at the gate for VIP admission. All guests must be 21 or over to enter.
Tempe Town Lake will play host to the 8th Annual Arizona Dragon Boat Festival March 26-27. Celebrate Asian culture in the Wild West with two days of dragon boat races, activities for kids, food booths and performances by martial artists, musicians and dancers. The beautifully decorated dragon boats are manned by teams of up to 20 paddlers. One team member pounds a drum to keep the paddlers' oars in sync; the drum represents the heart of the dragon.
Salsa lovers will be in their element at My Nana's Best Tasting Salsa Challenge on April 2 at Tempe Beach Park. This fun-filled day features amateurs and professionals competing to make the best salsa in their category, while festival attendees enjoy all the chips and salsa they can eat! Over 80 competitors prepare fresh salsa on-site in either the mild or hot category, so every taste bud is satisfied. Tickets are just $10 and kids under 12 are free.
Opa! Visitors can experience Greek cuisine and entertainment in the desert at the annual A Taste of Greece Festival April 29 – May 1. Held at Tempe Beach Park, festival attendees can explore Greek culture and heritage through tasting various foods and pastries, visiting booths and enjoying traditional Greek music and dancing. Admission is just $2 for adults and children 12 and under is free.
About Tempe Tourism Office
The Tempe Tourism Office is a non-profit organization devoted to marketing Tempe, Arizona as a desirable visitor and group destination site. The Tempe Tourism Office's mission is to provide visitors, media professionals and meeting planners with information on Tempe hotels, Tempe restaurants, Tempe entertainment and local points of interest. To learn more about Tempe, Arizona please call 480-894-8158 or 800-283-6734 or visit http://www.TempeTourism.com.
###