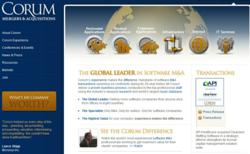 Seattle, WA (Vocus/PRWEB) February 02, 2011
Corum Group, the international leader in software and technology mergers and acquisitions services, is proud to announce its exclusive February web event, "Winning the M&A Battle." After a very successful annual overview webinar, "Forecast 2011", drew over 550 registrants from 28 countries, Corum now returns to its regular, one-hour monthly panel discussions, starting with its biggest live sellers' panel to date: . Four executives who have been involved in selling or merging companies in the last eight months will all be featured in a panel discussion on how exactly they succeeded in a challenging contest that so many fail.
"A web event that features these particular guests will be extremely beneficial to executives who are wondering just how they can come out on top in the M&A game," said Ward Carter, Corum Chairman. "These stories will prepare our participants for success, offering strategy, insight, and advice, especially for those looking to sell a business."
Corum's monthly Tech M&A web events always feature the Corum Index, a discussion on current trends and business valuations in the tech M&A sector, with information broken down into 6 market segments and 26 separate sub-categories. This allows executives from every field to see specifically where their company is trending with up-to-the-moment statistics. The Corum Index discussion features Corum's own research team, who will measure recent M&A activity against long-term trends, and offer insight on what to expect in coming months.
This webinar's special guests are four executives who have successfully navigated the M&A process in the last year:

Mike Tayor, CEO of Instantiations, sold his company to Google last summer,
Laurent Othacehe, CEO of the UK-based 360 Scheduling, which was acquired by IFS last fall,
David Geller, CEO of WhatCounts, which sold to Mansell last month,
Rui Domingos, Altitude Software, majority bought by BBVA & European PE last week.
In addition to the live sellers' panel discussion, the February webinar will also feature discussion on the new Chinese buyers, and the opportunities they provide for companies looking to be acquired, including how to get an Asian company buyer's attention. Finally, the web event will also include a look by a Corum M&A adviser at the current "mini merger" trend, what it means, and how participants can use the trend to their advantage.
The web event will end with a Q&A session, including members of the seller's panel, so that attendees can get information directly from the source. Participants are welcome to send in their questions via Webex, and Corum researchers and deal makers will also participate, providing an excellent opportunity for those hesitant about M&A to find out how to get started, and what trends to bet on. Questions that are not answered during the web event will be responded to via personal contact afterward.
This web event will be broadcast live on February 3, starting at 1 p.m. EST. Participants are encouraged to register early, as space is limited. A rebroadcast is scheduled for February 10, and will also air at 1 p.m.
Registration for "Winning the M&A Battle" is free of charge, but space is limited. To register, visit https://mergersandacquisitions.webex.com
About Corum Group
M&A firm Corum Group is a world leader in tech M&A with more than 25 years of experience, and a record of hundreds of transactions and billions of dollars in generated wealth. Each Corum's M&A adviser works with an executive staff of former software CEOs to insure a smooth mergers and acquisitions process. From Silicon Valley and Seattle tech M&A to international transactions across Europe and Asia, all areas of the M&A transaction process, from business valuation onward, are within the purview of Corum's M&A advisers.
About Corum Web Events
Corum Group hosts a monthly webinar featuring up-to-date content and statistics reflecting both the M&A market of the last month, and perspective on where it is going. Webinars feature guest speakers, including acquisition executives from companies like Google, Microsoft, and HP, as well as private equity investors, and executives from recently acquired companies. Regular segments on Corum's web events also include the Corum Index, an overview of the tech industry with an eye on tech M&A and business valuation trends, panel discussions, and Q&A.
# # #