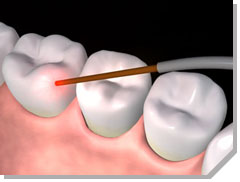 The benefits are just remarkable. Recovery time is as short as a few hours, so patients can often return to work on the same day
San Francisco, CA (Vocus/PRWEB) February 02, 2011
People with severe gum disease (periodontitis) used to have to undergo surgery with a scalpel that required many days to recover. It also reduced gum tissue and left them in terrible pain. The revolutionary patented laser treatment LANAP (Laser-Assisted New Attachment Procedure) is less painful and preserves more gum tissue than the traditional procedure.
Stanley Dintcho, DDS of Union Street Dental Care who was the first dentist to offer LANAP in San Francisco. The procedure, which can be performed in as little as one session, uses a laser under the gums to eliminate diseased tissue, promote new tissue growth, and increase bone density.
"The benefits are just remarkable," said Dr. Dintcho. "When the laser fires intermittently, it vaporizes all the bad tissue. Recovery time is as short as a few hours, so patients can often return to work on the same day"
Periodontitis is estimated to affect 30% to 50% of Americans. Symptoms and associated problems can range from bad breath and bleeding gums to tooth loss, heart disease and stroke. For many years, the only option for people with severe periodontitis was painful scalpel surgery to remove diseased tissue.
The recovery time after scalpel surgery is several days, and the procedure reduced connective tissue. LANAP, the only FDA-approved laser treatment method for gum disease, is a safer, faster, and less painful way to get rid of periodontitis—and it actually promotes the growth of healthy new tissue.
Few other San Francisco dentists use this revolutionary new treatment method. Union Street Dental Care has been performing it for years, to the satisfaction of their patients. "I had very bad gum disease," said Chase N. "Dr. Dintcho performed the procedure and it was literally a game-changer. His staff handled it perfectly and now literally two weeks later I'm a new man."
For more information about LANAP or any of Union Street Dental Care's products and services, call them at (415) 675-1448 or view them on the web at http://www.unionstreetdentalcare.com, or visit their office located at 2250 Union Street in San Francisco.
About Union Street Dental Care
Union Street Dental Care San Francisco is a dental clinic in Cow Hollow that specializes in restorative dentistry, periodontics (laser gum treatment), endodontics, oral surgery, cosmetic dentistry, teeth whitening, orthodontics, and sedation dentistry. They are a San Francisco emergency dentist that offers interest free payment plans.
For more than 35 years Dr. Stanley Dintcho has been practicing a highly-consultative style of dentistry known as the 'Dintcho Method' which keeps patients coming back and the media seeking interviews.
From a simple cleaning to the most specialized of ongoing therapy, Dr. Dintcho is sought out nationally and globally for his methods and style of treatment; especially in the procedures of laser periodontal therapy procedures for gum disease.
# # #