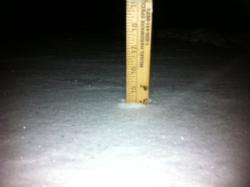 storage owners can count on [PhoneSmart], whatever storm blows their way.
Columbia, MO (Vocus/PRWEB) February 02, 2011
In the midst of the worst winter storm in decades, the PhoneSmart self storage call center and sales force was open for business on Tuesday, February 01, 2011. By 8 am, the self storage sales staff was answering phone calls and reserving storage units for their self storage clients as if it were any other day and to PhoneSmart's clients, it was business as usual. PhoneSmart serves self storage owners across the U.S. and Canada; these storage owners can count on their offsite sales force, whatever storm blows their way. By the end of the day, the call center answered more than 700 phone calls.
Behind the scenes, Dana Shields, Call Center Director, began making preparations Monday morning, long before the storm poured historic amounts of snow on the ground. Ms. Shields along with several sales team members reserved rooms at a nearby hotel Monday night in order to be close enough to walk to the office if need be. Knowing nearby restaurants would be closed, the crew bought enough lunchmeat and bread to live off of sandwiches for the day and made arrangements with their hotel to have a hot meal for dinner.
Located in Columbia, Missouri, PhoneSmart was one of only a few businesses open on Tuesday. Major highways, including I-70 which spans the State, were closed due to blizzard conditions.
The storm that began around 7:00 am on Tuesday morning was still blowing through the area some 12 hours later and weather reports estimate a staggering 21 inches of snow to be likely, but the PhoneSmart team has no plans of letting a blizzard closed their doors. Ms. Shields coordinated with snow removal crews to plow a path from the office buildings to the street so that the crew would make it safely to their hotel. Ms. Shields and her dedicated crew are bunkering down in the nearby hotel this evening and will be ready to trek back to the office bright and early Wednesday morning.
About PhoneSmart
PhoneSmart is a leader in the sales and marketing fields with an emphasis on serving rental property owners. PhoneSmart recently celebrated its tenth anniversary and has created more than 750,000 reservations and leads for its storage clients through the PhoneSmart roll-over call center. The company is also hosting the Hawaii UnConference, to be held in June 2011.
# # #