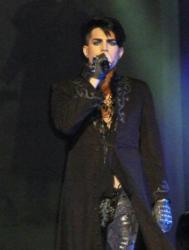 Adam Lambert has connected fans to those who have no idea who he is. They don't even have clean water, but they do have a champion."
New York, NY (Vocus/PRWEB) February 02, 2011
Singer Adam Lambert's meteoric rise began with his appearance as a contestant on the 2009 season of American Idol, when he became a favorite of judges and the public with his memorable and masterful performances. He is nominated for a 2010 Grammy for Best Male Pop Vocal for "Whataya Want From Me," a song co-written by Pink, Max Martin and Shellback, which was the second single released from his million-selling debut album For Your Entertainment. Lambert's Acoustic Live EP soared to the number one spot on iTunes Album Charts and received raves from music critics. The Houston Chronicle praised his "flawless, fearless vocals," saying "he approaches every song with a ferocity that soars above most of today's pop stars."
But Lambert attracts a level of adulation rare even in the popular music firmament. "To many of his fans, he is more than a singer," explain writers Katherine Hollinsworth and Juneau Underwood. "He has been open and brave in the face of personal attacks about his sexual orientation (Lambert is openly gay), he stays positive, he is attentive to his friends and fans, and he inspires people to be more courageous, positive and generous." Hollinsworth and Underwood wrote a book On the Meaning of Adam Lambert that in equal measure explores and pokes fun at their own obsession. They also launched an international talk radio show and blog Juneau & Xena's Salon that has attracted 350,000 views to date.
Enthusiasm for Adam Lambert has driven fans to social media, where they avidly follow the singer's every move on Facebook, his fan pages and Twitter. During the American Idols tour in the summer of 2009, fans showered Lambert with so many gifts that he asked them to direct their spending towards support for arts education in public schools through DonorsChoose.org. His DonorsChoose campaigns have raised more than half a million dollars, serving some 550,000 students.
When Lambert announced his charity:water campaign on January 14 of this year, he initially set a goal of $29,000 to mark his 29th birthday. Fans exceeded the goal in a mere four hours. Lambert then raised the target to $290,000. Fans embarked on an intensive social media campaign to spread the word, creating a torrent of messages and incentives. Fans matched other fans' contributions, auctioned CDs, autographed photographs and other memorabilia, and raised thousands of dollars through raffles at dozens of birthday parties from Hong Kong to Toronto.
On Lambert's birthday, donations poured in so fast that charity:water's web server crashed several times during the day. By the end of the day, fans has contributed more than $115,000, prompting Lambert to tweet, "Thank you all for the beautiful birthday wishes and parties!!! And- We've reached 260k for Charity:Water!!! Amaaaaaaazing!"
Says Hollinsworth, "Adam has affected people around the world, connecting individual fans to one another. Now he has connected all of us to those who have no idea who Adam is. They have no CD players, radios or computers. They don't follow Idol or popular American culture. They don't even have clean water, but they do have a champion."
###