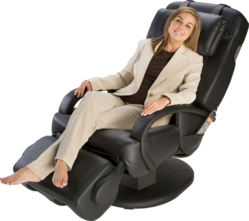 Long Beach, CA (Vocus/PRWEB) February 02, 2011
Human Touch®, the U.S. market leader of innovative massage chairs, Perfect Chair® Recliners, and other wellness solutions, has quite the treat for couples looking for the perfect gift this Valentine's Day. Human Touch® offers a BONUS Flip UltraHD™ camcorder with the purchase of a ThermoStretch™ HT-7120 or a WholeBody® HT-5040 massage chair.
Work can be stressful and we all need something to help us rest and get rejuvenated at home. And instead of buying something that will take up space and be of no use, couples can now relax in an affordable massage chair that perfectly fits any décor, and delivers a life-long wellness solution. A Human Touch® massage chair makes a perfect gift for your loved one that will also help save time and money on traditional massage therapies and alternative medicine!
This Valentine's Day, with the purchase of either a ThermoStretch™ HT-7120 or a WholeBody® HT-5040 massage chair, Human Touch® is offering a FREE Flip UltraHD™ camcorder, valued at $199.
More about these chairs:
The Human Touch® WholeBody® HT-5040 Robotic Massage chair:

Eases muscle pain and stress with the press of a button
Contains all the advantages of Human Touch's Robotic Massage® Technology
Designed to be both strong and sensitive, providing a revitalizing, therapeutic massage
The Human Touch HT-7120:

The only chair in its price range that offers Massage Comfort Control, an advanced technology, which allows the user to electronically adjust it into a luxurious comfortable home theater chair
Loaded with some of the most advanced massage features on the market
Combines Dual-Lumbar Heat and Full-body Stretching that helps alleviate stress, tension, back pain and sore muscles
To purchase the Human Touch® WholeBody® HT-5040 Robotic Massage chair or the Human Touch ThermoStretch™ HT-7120 and receive a BONUS Flip UltraHD™ camcorder, please visit participating retail locations nationwide or go to http://www.humantouch.com.
About Human Touch®
In pushing the boundaries of its traditional massage chairs and wellness products through advanced proprietary technology and innovation, Human Touch® is focused on infusing health and wellness into everyday lives through high-quality, design-oriented and award-winning massage chairs, Zero-Gravity Perfect Chair® Recliners and other wellness products and solutions. Human Touch® has been making people feel better™ for more than 30 years by developing state-of-the-art massage and wellness products, as well as by providing valuable consumer education about the substantial health and wellness benefits of regular massage therapy, relaxation and proper posture. Stress relief, increased range of motion, pain relief, improved circulation and increased immunity are just some of the valuable health benefits associated with regular massage therapy. Human Touch® products are available at back care specialty stores, fine furniture stores across the country, through international retailers and distributors in more than 40 countries, as well as online at http://www.humantouch.com.
###