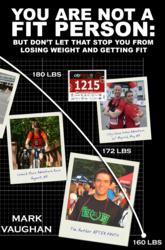 It wasn't that fit people were keeping secrets from the rest of us, it was the fact that fit people don't even know what makes them different from us and what our problems are.
Vancouver, BC (Vocus/PRWEB) February 16, 2011
You Are Not A Fit Person is a remarkable new book that takes the reader into the mind of the fit person to explain what the fundamental differences between fit and unfit people. By understanding what these differences are and how the unfit can use them to finally get a grip on their struggle with weight Mark Vaughan has created a new tool in the battle with obesity.
New research published in the Lancet has revealed that Americans are more overweight than people in any other developed nation. According to the study, about 68 percent of American adults are overweight while close to 34 percent being obese. These numbers are continuing to increase and what we have been currently doing isn't working.
According to the author, Mark Vaughan, "So often we turn to fit people: models, celebrities and athletes for help in getting fit. They write the fitness books, they tell us what they eat and how they exercise. The problem has nothing to do with learning how they exercise or what they eat, we know we don't exercise enough and we make poor food choices."
Celebrities, fitness instructors, and models all have different motivations than the average person. Their body image is their job in many cases, but the average person has to find ways to get fit when everything is stacked against them. From busy work schedules, sedentary jobs, driving around to and from family activities and the prevalence of fast food and restaurants, it really is a miracle that only 34 percent of the population is obese.
In response to You Are Not A Fit Person, Dr. Barry Sears, the author of the Zone said, "The pathway to a longer and better life starts with a commitment to the combination of both diet and fitness. Mark provides a clear description of what you have to do in the kitchen as well as in training to reach that often elusive goal." You Are Not A Fit Person is not your typical weight loss book that focuses on a adding a new ingredient to your diet or eliminating a single type of food. Through years of research living amongst fit people, Mark Vaughan discovered that many of the differences between fit people and unfit people actually create these body shape outcomes. Fit people feel terrible if they can't exercise, they tend not to watch television and they love vegetables and complain about how greasy fast food is. Odds are very good that the average person is not going to change how they feel about fast food, television or sleeping, so they need to find other solutions.
According to the author, "The solution for us is to find ways to exercise more, knowing that we don't go to bed early and get up with the sun to exercise. The solution is to find ways to actually enjoy exercise, knowing that we have always lacked the motivation to keep active. The solution is to find ways to overcome our tendency to overeat, knowing that we love food and eat too much."
Mark Vaughan has spent most of his adult life battling his weight. Struggling for years with all of the problems that face the overweight in North America, he could not find a way to lose weight and be fit. It wasn't until he began to live amongst fit people did he discover why every past attempt at dieting had failed and what the secrets that the fit people had were, even though they didn't know them themselves. "It wasn't that fit people were keeping secrets from the rest of us, it was the fact that fit people don't even know what makes them different from us and what our problems are." It took someone on the outside to discover what those differences were, and now they have been discovered, they are available for everyone to learn for themselves.
###