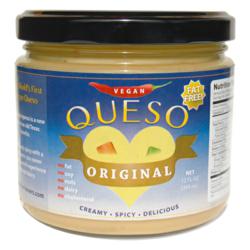 Food for Lovers Vegan Queso means guilt-free snacking, and is perfect for those with common food allergies.
Austin, TX (Vocus/PRWEB) February 02, 2011
Out of their love for food and health, the environment, animals, and each other, Christopher and Crystal Tate created their company, Food for Lovers, and The World's First Vegan Queso. After spending nearly four years mastering the recipe and saving up to jar their queso, the Tates are now taking over the southwest and quickly spreading their love for authentic vegan queso across the country. With their perseverance, Food for Lovers has already become a Whole Foods Top 20 Product.
"Being born & raised in Texas [Chris and I] have a need deep down for spicy, hearty food. After becoming vegan we learned how to create vegan versions of almost every traditional Mexican dish that I grew up watching my mom, aunts and grandmother create. Together we discovered our favorite blend of spices and found a balance of creaminess to heat for this queso. To be honest, we haven't stopped eating and sharing our queso since then," said Crystal Tate, CEO and co-founder of Food for Lovers.
Perfect for Super Bowl Sunday snacking, tortilla chip dipping, quesadilla wrapping, taco salad topping, and more, Vegan Queso from Food for Lovers is a new take on an old Texas favorite. With only 20 calories, absolutely no fat, soy, nuts, dairy, cholesterol or preservatives, and over 50% less sodium than regular queso, Food for Lovers means guilt-free snacking, and is perfect for those with common food allergies.
Food for Lovers Vegan Queso is now available in Whole Foods stores throughout Texas, Louisiana, Arkansas and Oklahoma, including: Arabella Station, Baton Rouge, Bellaire, Fairview, Forest, Gateway, Highland Park, Kirby, Lakewood, Lamar, Little Rock, Park Lane, Parkway, Plano, Quarry, Richardson, Sugarland, Tulsa, Veterans, Wilcrest, Woodway.
The product is also available in six Mother's Market & Kitchen stores throughout CA, other select health food grocery stores, and can be ordered online from Vegan Essentials, Cosmo's Vegan Shoppe, Pangea Vegan Store, Karmavore Vegan Shop, Vegan Goods, and Food Fight! Online.
Meet Crystal and Chris this weekend at Whole Foods Flagship store at 525 N Lamar Blvd in Austin, TX, from 11am to 3pm on Saturday and on Super Bowl Sunday.
Connect with Food for Lovers on Facebook and Twitter; and visit the website at: http://www.food-for-lovers.com.
Food for Lovers
http://www.food-for-lovers.com
Phone: +1 512 909 6157
Contact
Kristin Lajeunesse
Social Media & PR Manager
+1 518 727 1215
Kristin(at)veganmainstream(dot)com
# # #