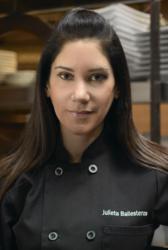 ... chocolate and chiles to spice up the mood.
New York, NY (Vocus/PRWEB) February 03, 2011
Chef Julieta Ballesteros uses food to help you seduce the one you love. For $69, Crema Restaurante will serve a 4-course gourmet Mexican dinner and release your inner Latin lover. The dinner will be served Valentine's Day weekend, Saturday, February 12th through Monday, February 14th, 2011. The dinner includes dishes with aphrodisiacs such as chocolate and chiles to spice up the mood. Two drink paring options are available (a cocktail option and a wine option) to further lubricate the evening's festivities. The drinks will incorporate ingredients such as roses and strawberries.
Some of the featured dishes include: Crema de Esparragos con Langosta, Foie Gras Flan, Cazon con Huitlacoche, Costillas al Vino Rojo, Tiramisu de fresa con chocolate.
And an All Red Cocktail Menu: Spicy Dark Chocolate Martini, Sparkling Rose Tequila Cocktail, and Strawberry Avocado Margarita.
To make a reservation or to learn more, diners can visit their website. Crema has also made a full copy of the menu available here.
ABOUT: Chef Julieta Ballesteros, from Monterrey, Mexico, trained at New York's French Culinary Institute, fuses traditional Mexican cuisine with a beautiful French presentation. This Zagat listed celebrity chef has created a Michelin rated Chelsea hot spot that is refined and fun. Crema's interior plays with traditional Mexican colors and textures in a modern New York way. The original paintings on display were custom created for the space by the celebrated artist and mother of the chef, del Bosque.
# # #