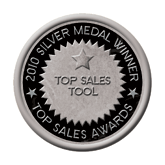 The winning 50 men and women are creators of wealth and the voters have recognized their contributions in this increasingly important field of managing sales leads.
Calgary, Alberta (Vocus/PRWEB) February 03, 2011
ActiveConversion, one of the leading sales intelligence tools for small to medium sized business, today announced it has received two respected award recognitions in the sales industry for 2010-2011. ActiveConversion received Silver in Top Sales Tool award from the Top Sales World's annual Top Sales Awards ceremony. ActiveConversion's Fred Yee was also recognized as one of the Top 50 Most Influential People in sales lead management for the second year in a row.
Every year the Sales Lead Management Association (SLMA) opens up voting to determine the 50 Most Influential People in the field of Sales Lead Management. From 99 nominees and thousands of votes after, the 50 most influential people from various lead management companies are voted in by their peers, customers and analysts. James Obermayer, CEO and executive director of the Sales Lead Management Association on his Dec 6th, 2010 press release said, "The winning 50 men and women are creators of wealth and the voters have recognized their contributions in this increasingly important field of managing sales leads."
Fred Yee, CEO of ActiveConversion received this recognition for the second time and has been tremendously influential through his vision and mission of creating an affordable sales lead management solution for small to midsized companies. Upon his win Yee expressed "It's a real honor to be placed among such an outstanding group of people in sales lead management such as Trish Bertuzzi, Jim Steele, Steve Woods, Phil Fernandez, and Jill Konrath, and to be recognized in this way validates ActiveConversion's value to the sales community."
The Top Sales Awards are hosted by Top Sales World, a global sales community designed to showcase leading tools in the sales industry. Established to recognize the pre-eminent sales tools, sales communities, and industry's best sales leaders, the Top Sales World Awards are conducted for various categories. The public votes contribute to 50% of the total votes, the other 50% is provided by a panel of three experts in each category.
"We thank everyone who voted for ActiveConversion, including the expert judges," said Ritu Singh, marketing manager, ActiveConversion. "We also congratulate Jonathan Farrington, the founder of Top Sales World community, who hosted and spearheaded the awards show. These shows not only give the opportunity for companies to showcase their tools, but also give the audience the chance to share and vote for their best."
Recognized as a market leader in sales intelligence tool for SMBs, ActiveConversion helps solve the basic problem of generating, managing and converting a sales lead. With a suite of solutions scaled for small to medium businesses, the company offers the industry's most affordable and comprehensive lead management platform that enables B2B companies to use an intuitive platform designed for sales and marketing professionals.
For more about ActiveConversion, visit http://www.activeconversion.com.
About Fred Yee
As the co-founder of ActiveConversion, Fred Yee is an industry expert in marketing automation. Yee has been involved in B2B marketing and sales for over twenty years. He's worked in software development, large scale computer hardware sales, software services and marketing. For the past 6 years, he has focused his efforts on online marketing services and marketing automation.
About ActiveConversion
ActiveConversion is a leader in total marketing measurement, lead monitoring and management and demand generation systems for companies with fewer than 1000 employees. It delivers its solutions through a Software-as-a-Service (SaaS) monthly subscription that is guaranteed to produce a continuous stream of interested sales leads with little or no marketing resources. For more information go to http://www.activeconversion.com, or call 1-877-872-2ROI (toll-free U.S. and Canada).
# # #