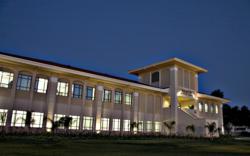 "The 90 Days of Vanguard celebration marks a milestone in our history," says Vanguard President Dr. Carol Taylor.
Costa Mesa, CA (Vocus/PRWEB) February 03, 2011
Vanguard University is a leader in higher education, and for over nine decades has been preparing hearts and minds to lead the next generation. February 7, 2011, kicks off 90 Days of Vanguard, a 90-day celebration on campus featuring an array of fine arts, athletic activities and special guest speakers highlighting Vanguard's rich heritage, theatrical and musical brilliance.
The celebration will include theater performances by Vanguard's nationally renowned theater program, a concert by choirs who regularly perform in Carnegie Hall and Lincoln Center, a jazz festival directed by Dr. Ken Foerch, top industry saxophonist and former member of the White House Marine Band, plus a comedy night, lecture series, homecoming festivities and more.
"The 90 Days of Vanguard celebration marks a milestone in our history," says Vanguard President Dr. Carol Taylor. "We will highlight all that makes Vanguard a great university in Orange County. The celebration calendar includes events that showcase the exceptional talent of our students, faculty and staff across a variety of disciplines. We welcome everyone in the surrounding community to join us."
Vanguard has been a strong community partner in Orange County since moving to Costa Mesa from Pasadena in 1950. Vanguard took over a portion of the former Santa Ana Army Air Base and became the first four-year college in Orange County. The original officer's club building, which once hosted performances by Bob Hope and Bing Crosby, now draws Lions fans to cheer their teams in their home gymnasium.
"The 90 Days of Vanguard is an opportunity for people to discover what makes Vanguard such a vibrant asset to the community," says Kelly Kannwischer, Interim Vice President for Advancement. "We are excited to be offering these first-rate events."
Today, Vanguard offers well-respected programs in music, education, theater, nursing, business and dozens of other majors and concentrations for undergraduates and graduates. Vanguard theater, music and communication alums work at the highest levels of media and entertainment including upper management at Disney, production at Fox News, hosting on NPR, singing on shows like Glee and playing in top-selling rock bands.
At 90 Days of Vanguard activities, the local community will discover and enjoy Vanguard's diversity of strengths.
To see a full schedule of events visit http://www.vanguard.edu/90 and plan to attend.
# # #