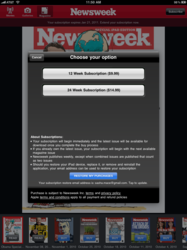 "Our tools work best together, and with them all bundled into one client library, developers have access to a richer offering for their apps."—Mike Herrick, VP of engineering, Urban Airship
Portland, OR (Vocus/PRWEB) February 02, 2011
Urban Airship has released an update to its mobile services platform, available today. The company's popular Subscriptions tool, the code set behind Newsweek's multi-week subscriptions and the UK's Guardian newspaper's new non-U.S. app, is now readily accessible to all developers creating apps for the iOS platform. Previously, integration of Subscriptions code required sophisticated custom coding and assistance from the company's professional services team.
Urban Airship's Subscriptions library, which is built on top of Apple's In-App Purchase, enables end users of the app to purchase and pay for subscriptions via their iTunes account.
Urban Airship powers the subscriptions function in popular publishing apps, including The Guardian (one of the UK's largest newspapers), Newsweek and The Daily Mail. In compliance with Apple's In-App Purchase guidelines, Urban Airship's solution provides the infrastructure to deliver the subscription content to multiple devices associated with the end user, a recovery flow for previously purchased content in the event a device is lost or reset, tracking of subscription expirations, and a method for reminding customers about renewals via rich push. Now this same functionality is available to all, opening up an app-revenue model that is increasingly popular for companies seeking to monetize their mobile offerings.
Subscriptions are but one component of Urban Airship's mobile services platform. The company's new client library for the iOS platform combines the breadth of Urban Airship's offerings — push notifications, rich mobile messaging, in-app purchase, and subscriptions — into one library. Developers access one file, and drop-in the libraries they need.
"We wanted to make it easier for developers to take advantage of our complete suite of tools," says Mike Herrick, vice president of engineering at Urban Airship. "We think our tools work best together, and with them all bundled into one client library, developers have access to a richer offering for their apps."
In addition the new platform separates core logic from all display code, so developers can define the look and feel of their apps' push notification, in-app purchase and rich-media push while simplifying the process of updating to newer versions of Urban Airship's code library.
The new client library includes the following new features:

A simplified initial install
Standardization across industry for libraries and updates
In-app purchase, subscriptions, standard push and rich push libraries contained within one library
Simpler creation of HTML-enabled, branded messaging campaigns
Numerous themes and sample projects for the entire product line
The move to a bundled offering strengthens the company's innovative mobile services platform and points to the new wave of mobile development, in which monetization and user engagement are increasingly crucial to the success of mobile apps. "The interplay between push and rich push, along with in-app purchase, greatly increases the value of an app," says Herrick. "For example, app publishers can send a push notification to alert users to new content available in the app, which triggers the user to take action and purchase upgrades via in-app purchase."
ABOUT URBAN AIRSHIP
Urban Airship powers the world's most successful mobile apps. Providing breakthrough technology, Urban Airship makes mobile marketing far more engaging, effective, and efficient. Top brands depend on Urban Airship to ensure their mobile app initiatives are scalable and profitable. Verizon, Dictionary.com, Tapulous, and Warner Bros. are just a few of the thousands of companies that utilize Urban Airship's innovative platform to reach and engage target audiences - and increase app revenue streams. Urban Airship puts the power of influence in marketers' hands through push notification, rich messaging, and in-app purchases. The privately held company is based in Portland, Oregon.
# # #