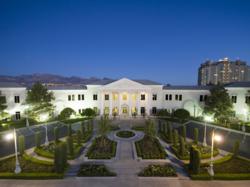 Cenegenics' proactive medical approach is ideal for Californians who typically live vibrant lifestyles. Chicago is a city of hardworking people focused on success in their business/personal lives—staying fit with optimized health goes with that mission.
Las Vegas, NV (Vocus/PRWEB) February 03, 2011
Cenegenics® Medical Institute, the global leader in age management medicine, announced the addition of its latest physician partners—Dr. Roman Lal at Cenegenics Beverly Hills and Dr. Bhavesh K. Patel at Cenegenics Chicago. The partnerships reflect Cenegenics' ongoing expansion at destination cities that demonstrate a rising demand for proactive, healthy aging solutions.
With prevention as its medical focus instead of disease, Cenegenics says it is offering these major metropolitan areas an innovative approach based on solid science, comprehensive evaluation and evidence-based protocols, shown to delay or prevent the risk of age-related disease.
"What first drew me to Cenegenics was how their practice is centered on protecting and enhancing the physician-patient relationship. As a physician, that is important to me. And their proactive medical approach—truly cutting-edge medicine—is ideal for Californians who typically live vibrant lifestyles focused on fitness and nutrition and who are always seeking better health alternatives," Lal said.
Lal—whose Cenegenics Beverly Hills is located at 8383 Wilshire Boulevard—joined Cenegenics two and a half years ago as a physician affiliate. He is the first Cenegenics physician to join the age-management practice immediately following his medical residency.
In 2009, Patel first sought Cenegenics as a patient, became a believer of their approach and then entered their CME-accredited physician training/certification program, offered through the nonprofit Cenegenics Education and Research Foundation. He became a physician affiliate and opened the Cenegenics Chicago center, which since has become the partner model for all other Cenegenics centers. Cenegenics Chicago is located downtown in the landmark Willis Tower.
"Chicago is a city of broad shoulders—hardworking people who focus on success in both their business and personal lives. Staying fit and attaining optimized health are part of that mission. It's also a cosmopolitan city with world-class sports and culture, drawing people from varied geographic areas. Many patients, in fact, come not only from Chicago, but also from the entire midwestern region, such as Ohio, Wisconsin, Michigan, Indiana and Minnesota. They all have one thing in common ... they want to take care of their health," Patel said.
Like their fellow Cenegenics physician colleagues, Lal and Patel are more than advocates of proactive medicine, they walk the talk, living a healthy lifestyle in sync with Cenegenics' age-management philosophy.
For more information about Cenegenics, please visit their site. You can register for quick access to their Healthy Aging Kit: informative Guide to Healthy Aging, Executive Summary and media excerpts.
To schedule an interview, please contact Ann Castro, Cenegenics Director of Media Relations: 702.953.1588.
About Roman Lal, MD
Dr. Roman Lal is a board-eligible family medicine physician and a physician partner at Cenegenics Beverly Hills. He earned his medical degree from Ross University School of Medicine in Portsmouth, Commonwealth of Dominica and completed a family medicine residency at Phoenix Baptist Hospital in Arizona. During his residency, he was a diabetic educator, presenting weekly lectures centered on medication management and diet control. He also was the first resident in the program history to publish independent of faculty and present at the statewide Academic Excellence Day. He became trained/certified in age management medicine, then joined the global leader in the field, Cenegenics® Medical Institute. Community-minded, Dr. Lal also has provided healthcare to indigent and under-served Latino population.
About Bhavesh K. Patel, MD
Dr. Bhavesh K. Patel is board certified in family practice and a physician partner at Cenegenics Chicago. He holds certifications in advanced cardiac life support (ACLS), pediatric advanced life support (PALS) and neonatal advanced life support (NALS). He is a member of the American Academy of Family Physicians. He earned his medical degree from Rush Medical College of Rush University in Chicago, Illinois, and completed a family practice residency at the University of Illinois/Illinois Masonic Medical Center, where he later became an on-call physician focused on inner-city healthcare and preceptor for resident training. He also held urgent-care physician positions at various medical centers, served as a financial analyst/biotechnology researcher and currently still holds an emergency room position at a community hospital in Minnesota. An avid cyclist and marathon runner, Dr. Patel turned his focus to age management medicine; he was trained/certified in the field and joined the global leader, Cenegenics® Medical Institute.
About Cenegenics
Cenegenics® Medical Institute, recognized leading authority in age management medicine, has two centers in Las Vegas, Nevada, as well as centers in Charleston, South Carolina; Boca Raton, Florida; Dallas, Texas; Arlington, Texas; Atlanta, Georgia; Chicago, Illinois; Beverly Hills, California; Philadelphia, Pennsylvania; Washington, DC; New York City, NY; Tulsa, OK; Jacksonville, FL. Additional centers are scheduled to open in other major metropolitan areas in the near future. With an established presence in the medical community, Cenegenics uses a proactive approach based on solid science and comprehensive evaluation. Their established protocols have been recognized as the next generation of medical science, capturing global attention. Cenegenics offers CME-accredited physician training and certification opportunities in age management medicine via the nonprofit Cenegenics Education and Research Foundation (CERF). Headquartered in Las Vegas, Cenegenics serves more than 20,000 patients worldwide—2,000 are physicians and their families.
# # #