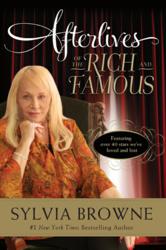 A riveting tour of the interests, private thoughts, intentions on future incarnation, and legacies of these celebrities, AFTERLIVES is a revelation from beyond.
San Francisco, CA (Vocus/PRWEB) February 03, 2011
Sylvia Browne, world renowned psychic and New York Times bestselling author, has done it again with a book only she could write. "Afterlives of the Rich and Famous" (HarperOne; February 2011; $25.99) is a fascinating tour of the next life passions, pursuits, and preoccupations of scores of the most famous celebrities of all time.
This fascinating look into the lives and afterlives of some of our most cherished stars incorporates what these deceased icons want to share with their loved ones and fans. By entering a deep trance state and channeling her longtime spirit guide, Francine, Sylvia was able to tap into the lives of celebrities on the Other Side. Her loyal readers and fans will be delighted to discover Francine's role in this new book, and to discover the goings on of their favorite actors, musicians, and noted experts.
Among the celebrity revelations in "Afterlives":

Paul Newman's feelings about his acting career, his looks, his philanthropy, the celebrity friends he associates with now, and his feelings for his son on the Other Side, as well as his wife and co-star, Joanne Woodward.
Marilyn Monroe and the mental disorder she suffered from; how her life and 'death' shaped her status as an icon; and how she views fame from the Other Side.
How Heath Ledger is doing today; the work he's specializing in on the Other Side; which Hollywood actor he's training with there; and the message he has for Michelle and his family.
Anna Nicole Smith was only on her second incarnation, which explains why she was so naïve throughout her life and had such a difficult time understanding whom to trust. Learn about her reunion with her son, Daniel; her feelings about the paternity case regarding Dannielynn; her reunion with J. Howard Marshall, for whom she cared deeply; and her understanding of fame now.
How did John Kennedy, Jr. arrive on the Other Side? Discover who John's surprising soulmate is; how much privacy he has now; and how his father feels about John's decision not to choose a career in politics.
Mattie Stepanek stayed on earth just long enough to reignite the spark of faith in an incalculable number of people. Learn how this rare, highly advanced spirit is connected with his mother these days, and how Mattie feels about her and his short yet powerful life here.
Would Grace Kelly have planned to continue her film career? How did she feel about her role as Princess Grace? Does she live a private or public life on the Other Side? Is she in contact with Prince Rainier?
"Afterlives of the Rich and Famous" explores the otherworldly lives of forty beloved celebrities we've loved and provides an intimate glimpse of cherished lives we only thought we'd lost. Sylvia Browne provides an enlightening depiction of what happens to our spirits when our bodies stop living, from the legendary tunnel to a description of the Other Side itself and what our lives are like there to a few alternative destinations we might happen to choose—the Left Door, the Holding Place and the world of Ghosts/Earthbounds—and the type of role we take on in the afterlife, each represented by the celebrities in the book.
A riveting tour of the interests, private thoughts, intentions on future incarnation, and legacies of these celebrities, "Afterlives" is a revelation from beyond.
"Afterlives of the Rich and Famous"
By Sylvia Browne
HarperOne, an imprint of HarperCollinsPublishers
February 2011 / $25.99 / Hardcover / ISBN: 9780061966798
# # #