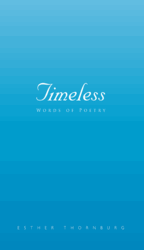 Cantril, IA (Vocus/PRWEB) February 03, 2011
In this new book, Timeless Words of Poetry (published by AuthorHouse), author Esther Thornburg shares insightful thoughts and observations through a collection of short poems. A large portion of her poetry reflects her search for meaning in God's words, with poems revealing the power, love and wisdom of God. Other poems convey different messages that Thornburg acquired from the many years she lived in agricultural communities. These expressions are inspired by the duties, difficulties and emotions that accompany rural life.
Little Things Can Be Great Things
Little duties done today,
Another step along life`s way;
A word to help a troubled soul
Walk on toward the one great goal.
A smile to brighten a gloomy morn,
The joy to do that others may learn.
His love, His joy, His friendship true,
Mid every storm will guide us through.
Oh! To learn more of His will today,
To have a heart, to follow His way,
To do the duty, for us He has planed,
Know the works of His mighty hand.
About the Author
Esther Thornburg was born in l928 in Doniphan County in Kansas. She moved to Burbank, Calif. for two years when she was 15-years-old before her family moved to agricultural communities in Iowa in 1946. Thornburg served as a telephone operator during World War II and later became a school teacher in a rural one-room school. She has three children and enjoys gardening, quilting, art, writing and music.
AuthorHouse is the leading provider of self- publishing, marketing, and bookselling services for authors around the globe. For more information, visit http://www.authorhouse.com.
###