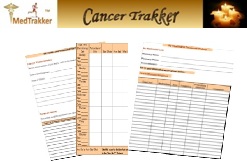 "The medical organizer was created to save the anxiety of starting from scratch and to prevent my clients from the stress affecting their health"
(Vocus/PRWEB) February 03, 2011
You needn't look far for pdf on stress management. Amber Bowden has a new solution for cancer patients and their families called MedTrakker, a medical organizer. The question Amber Bowden asks and so should anyone going through a health crisis is this: have you been provided with any tools to officiate your medical needs in an efficient manner?
Amber Bowden is known as an innovator of specialized medical organizers and they are designed to keep medical records in order and without extra headaches.
And if the current state of the health industry provides any clues, the answer is no. She has a goal to assist families by providing an immediate access stress management pdf, as well during the illness of their loved ones. According to the company owner, the most popular medical personal records keeper is a cancer medtrakker.
Bowden is asking a simple question "Are you caring for a family member, attempting to organize the details of their medical issues and don't know where to start?"
Amber Bowden, a leading expert in stress management and medical patient care revealed, "It's time we shed some light and assist families in the hardest times in their life. The real story here is patients today are not provided with the needed medical records management tools to efficiently manage their health records especially senior citizens who are in need of medical organizers for seniors".
"Keeping track of all the accounts and medical information was a nightmare when her mother was fighting cancer", Amber Bowden told us in her interview. In her presentation about specialized cancer medical organizers she shares vision and what it will do to the humanity! Bowden points out that stress affect out health and we need to have simple solutions in the times of crisis.
Efficient and quality care of medical patients will be mandated by consumers with the introduction of her innovative medical organizers. Amber Bowden takes the risk out of forgetting something critical when it comes to monitoring any health crisis. Her medical product provides a comprehensive plan for the individual to self manage their medical situation while trusting that they will not forget or confuse anything.
It is not a matter of just throwing everything into a pile and sorting through it later. The medical organizer takes the stress and guesswork out of the extended responsibility that comes with an illness and lets the patient focus on getting better.
The medtrakker is a three ring 1 inch binder with room to record personalized pertinent information including:
· Prescription and Non Prescription Medication
· Doctor's visits and Doctors Instructions
· Lab Results
· Medical Treatments
· Surgery schedule and After Care Instructions
· plus downloadble version of stress management pdf document
As Amber Bowden cites, "The medical organizer was created to save the anxiety of starting from scratch and to prevent my clients from the stress affecting their health". It is a critical part of providing efficient comprehensive patient care. While most other companies in the health organizer industry provide basic information our medical organizer provides an individualized comprehensive plan that helps a patient feel the trust they need to survive their experience.
The medical organizers are available exclusively online at: http://www.medtrakker.com/
For Media: Amber Bowden is available for speaking, events, book signings and expert quotes.
Amber Bowden can be reached at http://www.linkedin.com/in/medtrakker for further questions regarding Medical Organizers and Twitter at http://twitter.com/medtrakker
Publicist Tatyana Gann, 615.354.7625
###