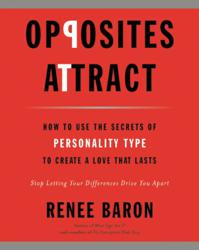 OPPOSITES ATTRACT is based on one sure fact: everyone wants to be understood.
San Francisco, CA (Vocus/PRWEB) February 03, 2011
"With simplicity and humor Opposites Attract explains how to determine the personality type of the one you love and provides a clear path to greater love, understanding, and communication. An invaluable tool for all couples." — Arielle Ford, author of The Soulmate Secret
What drives you crazy about your partner?

The silent treatment.
Constant chatter.
A lack of common sense.
No imagination.
Public displays of affection.
Emotional unresponsiveness.
Disorganization and mess.
Inflexibility.
Opposites attract…and drive each other crazy. We all seek a partner who "completes us," who possesses qualities we lack or have not developed. But the very differences that attract us in the beginning can come to drive us apart as time goes by. Perhaps the husband whose levelheadedness we initially admired begins to seem callous and cold. Or our girlfriend's once-charming spontaneity starts to look more like irresponsibility.
OPPOSITES ATTRACT: How to Use the Secrets of Personality Type to Create a Love That Lasts (HarperOne; $17.99; February 2011; ISBN: 9780061914294) is the book for everyone who hopes to create the relationship they have always wanted—or recapture the great relationship they used to have. Therapist Renee Baron, author of What Type Am I? and co-author of The Enneagram Made Easy, provides a new pathway for couples to navigate their differences by using the Myers-Briggs Type Indicator™, the most widely used and respected personality assessment tool in the world. Through learning about their own personality preferences in four keys areas, readers will come to better understand both themselves and their partners.
Renee's approach—chock-full of quizzes, cartoons, and down-to-earth advice—primes readers to see other people's ways of living as simply different from their own, not as bad or wrong. Differences in thought and behavior are, to a large extent, ingrained. Some of us are Extroverts, who have more Facebook friends than bytes of memory on our hard drives and strike up conversations in the grocery store checkout line. Others are Introverts, who hide in the bathroom at parties and can happily go months without talking to even close friends. Many conflicts in relationships are driven by fundamental personality differences such as these. Take a vacation: an Extravert dream trip would be a week-long extravaganza with a dozen friends and never a moment alone, while this would be an Introvert's worst nightmare.
Through understanding our partner's MBTI™ preferences, we will have more insight into—and compassion for—the behavior we used to react to with anger and distaste. As Renee writes, "When you think that your way is the only 'right' one, your relationship is bound to suffer. The fact is that you can never really change someone else. When you try, your partner only feels misunderstood, controlled, and resentful. And imagine that you did somehow accomplish this feat—you'd probably no longer find your partner nearly as interesting."
OPPOSITES ATTRACT is based on one sure fact: everyone wants to be understood.
About the Author:
Renee Baron has been in private practice for more than twenty-five years and has taught countless workshops and seminars on the value of understanding your personality type. She uses the Enneagram and Myers-Briggs Type Indicator™ personality assessments to give people practical yet powerful tools to develop insights and clarity into their own and other people's behavior. Her books have been published in seventeen countries.
Praise for Opposites Attract:
"After being 'typed' myself in the mid 1960's, I am still amazed at the ever new levels of truth that unfold from the MBTI. It is clearly drawing from a deep source—and here is another wonderful—and genuinely helpful application from that source." — Richard Rohr, Center for Action and Contemplation, Albuquerque, New Mexico
"If you use the information in this book, your relationship will improve! Once you see how valuable this knowledge is, you will wonder how you ever got along without it. Renee Baron's gift is making complex information accessible to all couples in an easy and fun way. The cartoons are brilliant. When you see one that nails you or your partner, and you suddenly 'get it,' it could transform your relationship." — Susan Page, author of Why Talking Is Not Enough: 8 Loving Actions That Will Transform Your Marriage
"This book not only delivers on the promise of helping readers create lasting relationships, it could be described as a layman's guide to the Myers-Briggs Type Indicator®....The book is concise, thorough, and upbeat. The information is illustrated with cartoons — a clue to its reader-friendly tone." — New Age Retailer
Opposites Attract
How to Use the Secrets of Personality Type to Create a Love That Lasts
By Renee Baron
HarperOne, an imprint of HarperCollinsPublishers
February 2011 | Paperback Original | $17.99 | ISBN: 9780061914294
# # #