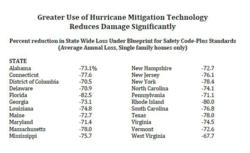 Tallahassee, FL (Vocus/PRWEB) February 03, 2011
The Federal Alliance for Safe Homes, Inc. – FLASH® the nation's leading non-profit disaster safety education and awareness organization, today applauded the American Legislative Exchange Council(ALEC) for passage of the "Hurricane Mitigation Promotion Act". The model legislation aims to better prepare Americans for hurricane season, particularly those in the most hurricane-vulnerable states from the Gulf of Mexico to New England states, by providing financial incentives and raising hurricane safety awareness overall.
States that adopt legislation based on the model will designate May 25-31 each year as "Hurricane Mitigation Week", featuring sales tax exemptions on hurricane-preparedness equipment such as portable generators, flashlights, storm shutters, metal connectors, plywood and ground anchor systems.
"Research including the highly-regarded 2005 Multihazard Mitigation Council study tells us that each dollar spent on mitigation returns $3 to $4 in benefits to families, businesses, communities and society overall," said FLASH President/CEO Leslie C. Henderson.
"Considering that the annual expected loss to homes as a result of hurricanes is as high as $3.5 billion, the relatively small reduction in that state's tax revenue stemming from the holiday is a bargain," added Ms. Henderson. In Florida the annual projected loss from hurricanes is $3.5 billion, far exceeding the roughly $24 million in reduced tax revenue.
Henderson noted that Louisiana, Florida and Virginia have previously implemented sales tax holidays for hurricane mitigation products, a move she said reflects the recognition that short term reductions in sales tax revenue yield longer term gains on other fronts.
"Awareness spawns preparation. The more we get consumers thinking of how they can best protect their homes and their families before disaster strikes, the higher the likelihood they will enact preventive measures that we know will reduce damage and lessen the risk of injury or death when storms strike."
"Measures to encourage mitigation save governments and communities from spending much higher amounts for shelter, care and other government relief before, during or after a storm," said Ms. Henderson. "Mitigation also helps communities recover faster from disasters by allowing people to return home more quickly which in turn helps businesses reopen."
Furthermore, mitigation efforts create additional economic activity far beyond the targeted measures of the model legislation and that, in turn, generates new tax revenue.
"Existing hurricane mitigation programs have proven that the right financial incentives can serve as powerful motivators for consumers to take action to protect their families and homes from hurricanes," said Stephen Weinstein, FLASH Board Member and Chairman of the RenaissanceRe Risk Sciences Foundation. "At a time when our leaders are looking for investments to spur economic growth, we see the proposed Hurricane Mitigation Promotion Act as a great opportunity for elected leaders to invest in protection."
As research has shown that financial incentives lead consumers to invest in mitigation, other research makes a compelling case as to the benefit of strengthening homes. A 2008 Applied Research Associates, Inc. study documented the effects of strengthening a home with wind-resistive building features, including those subject to the proposed tax holiday.
The study compared homes designed to meet newer building codes that called for greater wind-resistive technologies compared to homes designed to earlier building codes that required substantially fewer wind-resistive technologies.
"The findings are startling," said Ms. Henderson. "Homes designed to the higher building code standards had losses 75 to 90 percent less those designed to previous building code standards."
A 2008 Risk Management Solutions (RMS) analysis of hurricane risk metrics went a step farther. RMS modeled the average annual loss from hurricanes to single family homes in 21 states stretching from the Gulf of Mexico to New England based on each state's current building codes and compared that loss to the loss if each of those states upgraded to the Blueprint for Safety's® code-plus guidelines, a voluntary set of building practices recommended by FLASH. The findings revealed astonishing numbers. Losses would be further reduced by as much as 82.5 percent.
"Clearly, when families strengthen their homes, everybody wins and everybody saves," she said. "Once a home is strengthened, families can typically take refuge at home during storms, lessen or avoid damage to the home and preserve prized possessions."
In recent years as individual states have adopted sales tax holidays for specific events ranging from hurricane preparedness to back-to-school supplies, those tax breaks had to be reenacted each year. This subjected the measures to the uncertainty of the climate each year in a state's legislative body.
The ALEC model removes the need for annual legislative action by making the sales tax holiday a permanent event.
The nonprofit Federal Alliance for Safe Homes, Inc. – FLASH® is a 501(c)3 collaboration of organizations dedicated to strengthening homes and safeguarding families from natural and manmade disaster. Based in Tallahassee, FLASH is the nation's fastest‐growing disaster safety education organization with more than 100 partners including the Federal Emergency Management Agency, Florida Division of Emergency Management, The Home Depot, International Code Council, National Weather Service, Renaissance Reinsurance, Simpson Strong‐Tie, State Farm, USAA and WeatherPredict Consulting, Inc. In 2008, FLASH opened the interactive weather experience; StormStruck: A Tale of Two Homes®. To learn more about FLASH and access their free consumer resources, visit http://www.flash.org call (877) 221‐SAFE (7233).
###