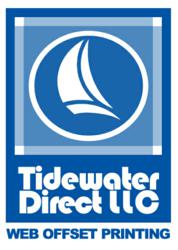 Centreville, MD (Vocus/PRWEB) February 08, 2011
Tidewater Direct, a high volume web offset printing company, has cited lower basis weight 80 bright hybrid offset paper to be the rising star of the generic insert component of the direct mail industry. Acknowledging yield, weight and cost advantages, Tidewater Direct is pushing the boundaries of this web stock for generic direct mail printing applications. Today, Tidewater Direct processes 10-30MM component parts per month on hybrid stock.
Purchasing and printing on over 2500 tons in 2010, executives at Tidewater Direct forecast that 2011 will be an even bigger year for this niche of inexpensive printing paper. A heavy hitter in the terms and conditions arena, Tidewater has started to see other direct mail component parts migrate towards the lighter basis weights. In many cases, paper can be 50% or more of a total job cost; switching from a 92 bright 50 lb offset to an 80 bright 35 lb sheet can save 42% on paper alone. Add in freight costs for larger jobs and the savings add up quickly. Tidewater notes that laser-processed continuous forms printing is still dominated by 60 lb white offset for its ability to withstand heat.
Tidewater isn't stopping with direct mail. Tidewater forecasts that other markets can take significant advantage of this stock.
Pharmaceutical Printing, for example, currently uses a 27 lb opaque sheet as the workhorse to deliver informational warnings such as PI's and IFU's. While the micro pharmaceutical market takes advantage of the minimal caliper of this opaque sheet, Tidewater Direct points out that not all pharmaceutical printing needs to be micro-folded. For those applications, a 35 lb hybrid sheet could save print buyers 25% of the paper cost.
"We've taken machinery we own and have pushed the limits – and we've gotten quite efficient at processing lighter weight stocks as a result," says Geoffrey Eisenberg, Tidewater's VP of Operations. "We continue pursue lighter stocks that save money for our clients while still conveying the message to the end user."
"Saving money for our clients is a constant focus and challenge," says Ken Boone, President. "Today's print buyer faces tremendous pressure to reduce print costs and widen overall margins on direct mail campaigns. Migrating to lighter-weight stocks shows serious cost savings, and is a tool that ever print buyer should know about."
###